In 2011, I made the leap and spent an extended time abroad, mostly in Colombia and a little bit in Ecuador. Here are 10 reasons you should go abroad this year:
1. You will love it.
What is better than having the best time of your life?
Some people may view going abroad as a massive thing. In some ways it's massive, but in other ways, it is about having an absolute ball. You don't need to view it as some reflective, introverted mystic. Just go and enjoy the ride.
Listen, you already travel a certain distance to enjoy many things. You drive to your favorite restaurant or visit another part of town or take vacations every now and then… What is going abroad except a different neighborhood a little bit further away?
2. You will hate it.
Once you get food poisoning, lose your luggage, have your smart-phone stolen, take a cold shower, live without air conditioning, and be ripped off by a street vendor, you will understand that you are more flexible and capable that you thought before.
Think about it… The ability to adapt is only developed when you are in a situation that requires you to adapt. If you keep a life of mundane predictability, you will have trouble developing this. Encountering the less than optimal will help you become a more able person.
3. You will experience new things.
See the beautiful mountain scenery of rural Colombia. Take a freezing cold bus ride. Get yourself lost. Eat a guinea pig. See the most gorgeous women you've ever seen. Live without a car. Encounter deep sincerity and hospitality of locals. Share a night out on the town. Drink too much Aguardiente.
When you go abroad, its almost as if your default life-stream shifts, from one of predictability to one of exploration. As you explore more, you can regain a child-like joy from experiencing novel things.
4. You will grow in confidence.
I remember the uneasy feeling in my stomach when I was making my way to the airport last January. It was a feeling like I was about to step off a cliff into the unknown. It was only by absorbing the fear / anxiety existentially and actually taking the action that I felt new level of confidence was gained.
The same will be true of you. If you go ahead and get the freaking departure date, and force yourself to get on the plane for your foreign adventure, you will have taken the risk, came through, and discover more self-confidence as a result. And, the longer I live, the more I realize how valuable are the men and women who walk straight into their fear with bold action.
5. You will give your mind expansive power.
Something very profound happens when you encounter a different culture than your native one. Your everyday assumptions about life, love, and people might be disrupted. Your habitual responses and expectations of "how people should act" might undergo a fundamental change. If you adopt a posture of receptivity to a new culture, you might even find it preferable to your own.
It's almost like separating your mind from certain tentacles that keep it's powers limited. By encountering and engaging a different place and culture, you allow yourself to separate what is actually important from what is only culturally important. This is probably the most profound change you can have, and you'll never be the same.
6. You will give your life more possibilities.
As I've written about before, many of us are taught from childhood that our life has a certain path, and that we must do certain things because they are in line with that path. The large institutions of school and state love forcing this upon you because they continue to need mindless cogs powering their machine.
When you travel abroad, you break that mold. You take a step of individuality that is desperately needed in order to for you, and the rest of the world, to become fully human.
You may begin to view your life instead of something that happens to you, or that has been laid out in for you, to something that, by contrast, you design. You begin to see in reality what you can control (as well as what you can't), and then begin to take steps on designing the things you can control to suit your interests and purposes.
I know of very few things in this world which genuinely open your life to more possibilities. Going abroad is one of them.
7. You will meet different and exotic people.
Before going abroad in 2011, the number of people I met with origins in another country was very low. Despite the view of America as a 'melting pot', I didn't know many people from other countries.
This all changed when I started traveling. I literally met people from all over the world, North America, South America, Europe, Africa, Australia, Asia. It's really not hard to meet them if you are traveling about in a foreign country, especially if you frequent certain mixing points like hostels.
Not only will you meet exotic travelers, but most importantly you will get to know people from the countries you visit. You will get to see up close what life is like for them, and what their view of the world is. You will get to eat with them and hang out with them. It is a refreshing change from seeing the same kinds of people you would see in a more predictable life.
And, of course, you may meet an incredible specimen of the opposite sex… 🙂
8. You will have interesting things to share.
During your trip, you'll collect a number of really great memories. You'll learn a lot about life, love, adventure, and perhaps a new language. Your experiences will take you wide and far. As such you will have really interesting stories to share about your life experiences and the places you've been. You'll find you can offer more value in your conversations because you become a more experienced person. And this doesn't even touch the practical side of taking photos, keeping a journal, or pocketing some special souvenirs.
I myself am not that good at remembering to take pictures, but I have a few that turn out really well. Like this one, taken from from my cell phone, no less: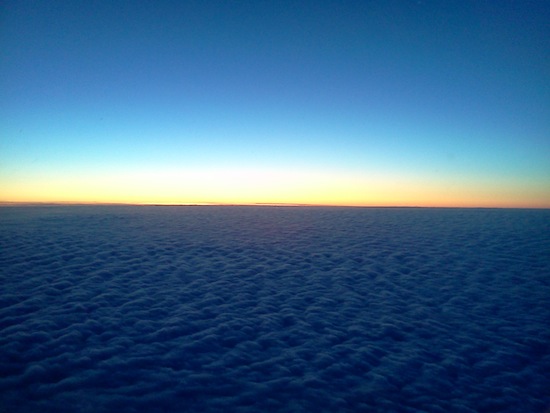 If you adopt the right attitude in going abroad, you will be able to share really interesting, often beautiful things– and if you start a blog, you can share them with the world.
9. You will drop your excuses
Look, we all know the excuses game. You have told yourself that you wanted to go abroad, but the reality is that you always gave excuses for not following through. Maybe because you didn't know the language, maybe because you didn't have the money, maybe because you were flat out scared.
And, slowly but surely, the time slips away and you haven't done what you wanted to do. I am no stranger to this… In my estimation, I was actually 10 years late in going abroad.
Don't be like me. Fight your excuses and go THIS YEAR. You'll be better off for it.
10. You will not arrive next year with disappointment.
I have known people that died in their teens, 20s, or early 30s. When each of them passed, it was devastating.
The idea that we are guaranteed a nice, long life is just pure fiction. People die from freak accidents, disasters, and sudden illness with far more frequency that we allow ourselves to perceive. People lose their vitality through health problems as they age, preventing them from doing the things they used to do. And, people lose their hard earned savings through bankrupt investments and corrupt institutions.
Assuming, though, that you are privileged to live one more year as the healthy version of you. Do you really want to arrive at next year not having done the very thing you want to do?
Don't miss out. Your time is now.