After some time in Arequipa, I took an overnight bus to Cusco Peru, near where the famed Machu Picchu lay in waiting.
Normally, I don't go for the tourist attractions, but Machu Picchu is a wonder of the world, and I tend to hit those up if I'm in the area… just like I hit up Iguazu Falls a few months prior.
The executive review of the whole experience is that I was impressed by Machu Picchu itself, but was remarkably unimpressed with almost everything else that surrounded it.
Here I hope to give you some tips to deal with the whole thing.
1. It's cold, especially at night. Bring warm clothes.
Even though I went to Cusco in December, when theoretically summer begins, it was very cold. I had to break out my fleece, and had to be given extra wool blankets at night. This was in contrast to the very hot days in central Argentina I had been in, just a few weeks prior. So be aware you're going to need some extra layers, and it makes a hot shower that much more important.
(And they don't have central heating in the hostels… But that's practically a given for Latin America.)
2. It's high. Give a few days to acclimate.
You may have heard that it takes a few days to get used to the Cusco elevation (3400 m). You ignore it to your own detriment.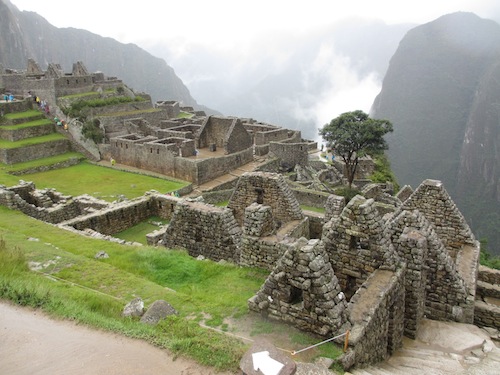 On my hike up to the Machu Picchu entrance, I came across a guy who had been uncontrollably vomiting due to altitude sickness. He was continuing to climb, but you could tell his girlfriend was a little distraught because this had the potential to ruin their whole experience.
If you have been in Arequipa for a week (2300 m), though, your body has a head start. Nevertheless, it's very important you take 2-3 days to drink lots of water and simply allow your biology to adjust.
3. If you want to do the trek, plan months ahead.
If you want to do the classic 'Inca trail' (which I didn't), you're going to have to plan far enough ahead. Generally you have to reserve a spot 4-6 months out, and pay a chunk of change to do it. Four day tours start around $550. Oh, and want to rent a backpack? Another $60. Want to have someone carry your load? Another $60.
I personally had little desire to spend 4 or 5 days hiking in the cold and rain. (Remember I'm generally looking for places to live, not wanting to do travel and tourism al maximo. I'm just hitting up Machu Picchu because I was in the area.)
Alternatively you can do the Salkanay trek, which is much more affordable and which you don't have to reserve so far in advance. See Dave's review of the trek for more info.
4. Rainy season starts in December and goes until March.
One of the most annoying things about my Cusco and Machu Picchu experience was that it rained every single day I was there.
Every. Single. Day.
I had been told that the rainy season started in January, but I thought if I came in the first two weeks of December, I could get it in just in time… NOPE.
Rain, rain, rain, and more rain. I ended up getting completely soaked on a number of occasions, including the day I went up Machu Picchu.
Lesson: bring or buy GOOD QUALITY rain gear. That means a poncho which can be tightened over your head and backpack, and won't flail up in the wind.
5. Plan to spend money.
Given potential for rain to ruin a day (or two) of yours, the trains and parks and hostels to be completely full without any open spots for you, and the service personnel to be quite 'tourist' savvy, it's best just to come to Cusco with the idea in mind that you will spend money.
You'll find fees added on top of fees added on top of fees. You'll find people around every corner wanting money from you. And you'll find yourself needing to buy food and water.
During the days you are there, it's really not the time to think of flat-lining your expenses. You are here on a specific tourist mission to begin with, so just accept the fact that you'll shell out a few hundred bucks you didn't intend to.
6. Skip the smaller towns and hikes
While in Cusco, people will recommend that you visit the smaller towns and hikes of Pisac and Ollantaytambo. I went to a few of them. And… the views from the mountains were good…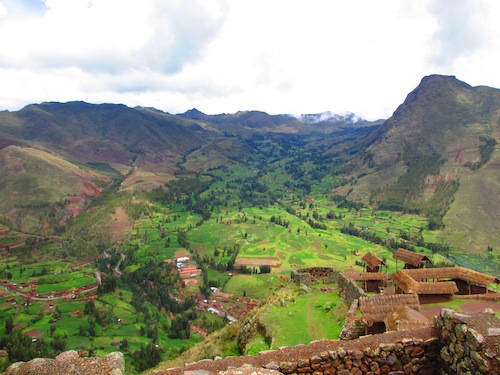 But going to these ruins before Machu Picchu is like downing a hamburger on your way to eat a filet mignon at a world-class steakhouse. Just skip them unless you are staying for a week or more.
7. Buy train, park entrance, Wayna Picchu tickets beforehand
Even in low season, the trains from Cusco to Machu Picchu (the pueblo near it, 'Aguas Calientes') still fill up with regularity. I went in 2 days before I planned to go, and had to get a seat on the very last train because it was the only one available.
And, I had to take a bus to Ollantaytambo (~2 hrs) to catch the particular train. Spending a couple hours in a local bus in South America is rarely a desirable experience.
So make sure you get your tickets in advance. They only allow 400 people at a time onto Wayna Picchu, so it's important to reserve them in advance as well. Just ask around in Cusco and they will tell you where to buy your tickets.
8. The train is the money guzzler of the whole Machu Picchu experience. But there's no way around it.
The train costs around $70 one way to get to Aguas Calientes from Ollantaytambo. That means you are spending around $140 on an uneventful 3-3.5 hours in a chair. You're paying much more than that if you're going from Cusco.
But you have to do it. There's no way around it. There's no bus or taxi that will take you to Aguas Calientes. Only the train. It is a complete monopoly of access that the train company has on Machu Picchu (and believe me they are making bank).
I heard rumors that Chileans and Argentinians come up from the south in their cars and are able to drive to a nearby smaller pueblo, and then hike into Aguas Calientes to avoid the train… Anyone met these folks? 😉
9. Where to stay in Aguas Calientes
This is a really good tip… 'Aguas Calientes' (also referred to as 'Machu Picchu' pueblo) is where you'll go before you ascend the mountain, and it's best to stay the night so that you can get an early start.
You can find a really cheap over night bed if you simply walk up the hill and over the bridge, further away from where the train lets you off. Just ignore the big signs and people trying to get you to come in when you first arrive. Go to the quiet, unassuming places on the other side of the creek, and you can find your own room with wifi for really cheap up there, less than $15 USD.
10. Get up early… and take the bus to the top. Take your passport. Take a poncho. Take snacks.
The hike from the town of Aguas Calientes up to the entrance of Machu Picchu was NOT worth it. A boring 2 hours with nothing to see, while observing the buses whiz past you every 10 minutes, taking eager tourists to the top ahead of you.
It also is an unnecessary expenditure of your energy– which you will need especially if you are going up Wayna Picchu.
So just take the bus to the top. Yeah, it's a stupid $18 USD for a 20 minute ride, but it gives you your time and energy back… Enough said.
Oh, and you'll need your actual passport (not a copy) to get in. Don't forget it.
11. Do Wayna Picchu first, then come back down to Machu Picchu for photos.
Wayna Picchu, in case you still weren't clear on it, is the mountain behind Machu Picchu that looks down upon it. It offers great views (when not cloudy / rainy).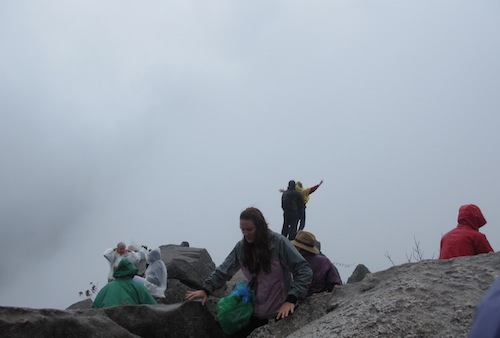 It is steep and rocky, and pretty dangerous when wet. It took me the better part of 2 hours to get to. But it was a good decision… I definitely recommend it.
If you go up first thing in the morning, it is much less crowded and it still gives you the afternoon to come down and take photos of the rest of Machu Picchu.
12. One hostel in Cusco you shouldn't miss
I rarely mention the hostels I stay at on this blog unless they are particularly good. I am happy to say that I found one in Cusco that was particularly good and that I would DEFINITELY recommend you stay at.
It's called Pariwana Hostel. It's large, social, well-located, well-run, and has good bathrooms with plenty of hot water. It also has extra-large comfy beds. It has it's own restaurant so in case it's raining you don't have to leave. It has it's own computer and movie room too. I was definitely impressed.
The only thing is that it's definitely geared more towards the young, partying type. I didn't think it got too loud though.
13. Avoiding petty theft in Cusco
I was the victim of a pickpocket attempt while walking through the crowded downtown Cusco one night. I was carrying my backpack after a long day, and someone quickly unzipped my outermost pocket and made a swipe at the contents.
I hadn't put anything in that pocket (clever me, ha haaaa), and when I turned around to see who was there, I didn't see the guilty party. So I was left unscathed.
But this happens regularly in Cusco. If you're a traveler, be on special lookout for pickpockets and thieves. They know what a tourist draw Cusco is, as tourists tend to have more money on them than the locals. Be sure you are minimizing your theft exposure.
…But is Cusco liveable?
I've met a number of people who claim Cusco is just an awesome city, as well as a number of people who have lived there several months. They can't stop talking about it.
For me, I basically don't know how I could ever like living there long term. It's too cold, rainy, and isolated. The wifi isn't good enough, there's limited things to do in the city, and you wonder what people do there except Machu Picchu, massages, yoga and ayahuasca retreats.
The fact it was a major traveler's destination, however, can be interesting in and of itself.
I mean, Cusco, along with Rio de Janeiro, are the most visited tourist spots in South America. You have the opportunity to meet people from literally all over the world, and in a fun environment like a good hostel. And when you find a good hostel like Pariwana, it creates the opportunity for a fun experiences with your fellow travelers– whether you hike with them or just go out and enjoy your time in the city.
So… I wouldn't live in Cusco, but I might go back for a few days, just to be in that unique environment again.
Conclusion
Just to be clear: the reason you go to Cusco is for the Machu Picchu experience. That is the main draw, and it won't change for the foreseeable future.
Plan on spending some extra cash, getting some good photos, and getting the contact info of that cute Brazilian you meet in the hostel. 😉