It's not always peaches and cream in Medellin Colombia.
Sometimes it rains… a lot. Sometimes you're robbed. Sometimes you go out and are surrounded by fat, unattractive girls. Rare, but it happens.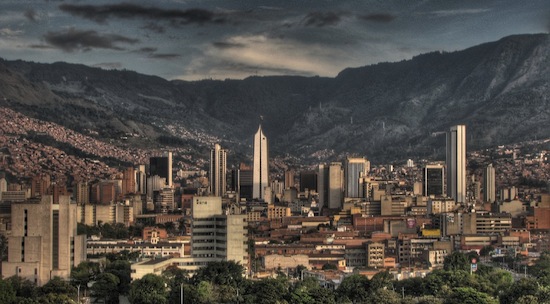 Here are some more obvious lifestyle downsides:
1. You Have To Know Spanish
This item can't be overlooked for any English-speaking expat. The reality is that you will need to speak Spanish here, or your experience will be extremely limited and frustrating.
In fact, I know of a guy who left Medellin only a few days after arriving precisely because Spanish was so required.
Learning Spanish takes time and effort, and can really be a drag especially if you are already grinding it out at the entrepreneurs wheel. You really can't afford to spend 3-4 hours of your peak intellectual activity learning a new language– that can be a misallocation of time if you are an entrepreneur.
It's something I didn't appreciate in the beginning, but learning a new language is a commitment in and of itself. If you don't know Spanish or aren't planning on learning it, Medellin might not be the best place.
2. You Can't (i.e. Not Smart To) Carry Your Laptop Around The City
Unlike in the majority of cities in the USA, you don't really want to carry around your laptop in Medellin because you risk getting it stolen.
Muggers (alas!) are common in Medellin. I personally have not been robbed, due in part to my anti-theft tactics, but I know of many expats who have been robbed here, I'd estimate around 50-60% of the expats I know who have lived here for 3+ months. Many of them have been robbed more than once, and many of them in the popular neighborhoods of Poblado and Laureles / Belen.
This can be a major concern for internet entrepreneurs, especially if they feel the need to separate their workspace from their domestic space. Think about it… you're not going to have a car. You'll be taking buses and the metro, mostly. And cab fares add up, especially if you're a bootstrapper.
It's a concern that simply does not exist in the US or in other places. Even if you'd love to head over to that cafe you saw with free WiFi, it's not a good idea to tote around your Macbook in Medellin.
3. Your Smart Phone Is A Target Too
Along the same lines, smart phones (iPhones, Blackberrys, Samsungs, etc.) are highly targeted by muggers. I know of a lot of people who have naively flashed their smart phones around like they were in the US– only to later have them robbed at gunpoint.
As Colombia continues to grow, this will become less of a problem as the economy grows and more and more people have smart phones. In fact, I am seeing more iPhones all the time… But it is still a very real concern.
One tactic I employ is to carry a cheap phone around with me instead. That way, even if I am robbed, I'm not subjecting myself to the possible depression which would follow the loss of a sleek, $900, world-compatible iPhone.
4. The Food Is Not The Best
The food in Medellin is very basic. Paisas seem to love eating rice and beans for every meal, along with a slab of chicken or steak. They don't have a lot of flavor. And the favorite breakfast food of Colombia, the arepa, is about as bland as bland can be. Just a corn patty with hardly any taste.
There are beginning to popup higher-end restaurants in the Poblado area, for example, but if you're a bootstrapper you won't be eating there much. You'll most likely stick to the almuerzos or menus del dia.
I'm not really complaining, by the way… I could eat beans and meat most days. I'm just saying that if you need diverse culinary options without spending a lot of money, you might find Medellin lacking.
5. Blazing Internet Speeds Are Rare
After living in 4 places across various parts of town, testing the wifi in malls and coffee shops, and talking with many people about the internet situation, I've come to believe that blazing internet speeds really are rarely found in Medellin.
The internet is high speed cable, yes. And it's good enough for Skype calls, yes. But…
There are only 2 main companies that handle the internet connections in the city.
There is hardly ever more than a 2.0 Mbps down, 1.0 Mbps up connection in the general access areas and basic apartment connections.
So, depending on where you're coming from and what you need to do, this might affect you. My last trip to the US, for example, I check the wifi speed of a co-working space I was in, and it was 6.5 down, 3.0 up. Not blazing, but 3x as fast as what I'm used to in Colombia.
So, call me picky, but blazing internet saves me time. The faster a page loads, the more time I save. (I have only really begun to think of this in terms of lifestyle design in the last few months.) Prior to finding blazing speeds, I didn't know what fast internet was… and to some 6.5 down / 3.0 up isn't even 'blazing'!
I hear in various parts of Southeast Asia, by the way, you can get these blazing internet speeds with regularity… in Medellin, they're a little behind. (Note: if you know of any blazing speed hotspots anywhere in South America, please let me know!)
—
So, these are various lifestyle downsides to living in Medellin. They can be legitimate concerns particularly for internet entrepreneurs.