So you're going to Colombia, huh?
Good choice.
Here are some tips for that first visit.
1. Know The Travel 'Loop'
If you are just thinking about traveling through the country (and not really living there), you can easily go in a basic loop through the country and see the the larger cities and major, particularly if you are headed to Ecuador (or, are coming from Ecuador). The basic idea is that you can take these routes by bus.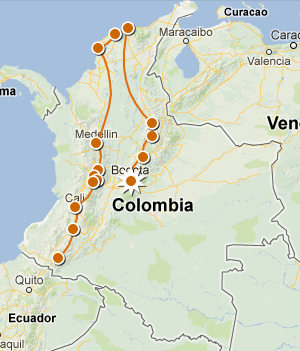 Fly into Bogotá, then head northeast to Villa de Leyva for a quick stop, then onto San Gil and Bucaramanga, then up to the coast at Santa Marta. (From there you could go up to the Caribbean tip of Colombia, the desert coast line of La Guajira, for a few days as well).
Then jog down the coast to Barranquilla and Cartagena. You can visit the islands of Providencia and San Andrés from Cartagena if you want.
Then go down to Medellin. Make sure you set aside a number of days to explore and enjoy a city I'm nuts about!
Then head down to the coffee region of Manizales / Armenia / Pereira / Salento, then check out Cali, the salsa capital of the world, further south.
From there, you can easily go to Popayan then Pasto (quick stops) and then cross the border into Ecuador. Or if you are coming from Ecuador, just to the travel loop in reverse. And it can all be done by bus.
You'll notice that this map leaves out large swaths of land in the southern and southeastern parts of the country, that's because there is still the military conflict going on in many of those areas. If you want to see the Amazon region, for example, you'll most likely have to take a plane. You'll also face all sorts of strange animals, air-borne diseases, and lack of clean water. But if you're indestructible, go for it and let me know how it goes.
2. Speak-de-Spanish
If you're wondering if you should speak Spanish when you come to Colombia, the answer is yes. It makes life so much easier. (I suppose you could 'survive' without it, but I wouldn't recommend it for anyone traveling solo.) There's just too much you'll need to risk simply going as a dumb gringo.
You'll need to order food, ask directions, read signs, and talk to taxistas who don't know any English. How are you going to handle that? I had studied Spanish before I came the first time, and even I was overwhelmed. It can be very intimidating… again, especially if you're solo.
The hostels generally have English-speaking staff, which may be a welcome relief, but my best advice would be, hack Spanish before you come.
3. Know Taxi Etiquette
Taxis in the various cities are a part of the life you'll experience and you need to be prepared. Generally, it's best to negotiate the fair with the taxista BEFORE getting in the cab. Tell them where you are going and ask "cuanto es?" or "cuento me cobra"?
You'll have to do this in most cities, except Medellin where the taxis are metered (another reason to love Medellin!

).
Also, be aware that the taxis can be lighter, thinner cards than there are in America. That means you should make a concerted effort not to slam the cab door, unless you want to get on the bad side of the driver. I'm serious– they will get very upset with you if you slam the door.
It's always best to ride with more than one person, especially if you're female. I met one lady who was kidnapped by a normal looking taxi from Bogotá's zona rosa. And, if it's after dark, it's best to call a registered cab from a landline to enhance safety.
4. Know How To Find Accomodation
If you're traveling and want cheap accomodation, look no further than Hostelworld. It's a great resource for the budget traveler. It has maps of where the hostels are in the city, as well as detailed reviews. I don't know how I could travel without it. You can also try Couchsurfing.org if you're really looking to save money.
If you're looking to live in a place for awhile, check out Airbnb.com and CompartoApto.com. If you have more money to spend, Airbnb is a great resource for short stays as well… Many times the people offering a room in their homes will be eager to show you the city they live in, and act as great tourist guides.
5. Know How To Get In And Out
Bogotá and Medellin are the principal cities for flying in and out of Colombia. You can also find flights into Cartagena, as it is the crown tourist destination of Colombia.
The best fares seem to be on Spirit Airlines and JetBlue. If you are coming from the US, they will ask you for proof of a return flight to the US… Not totally sure why, as I have never been asked about it at Colombian immigration. But it is what it is, and you've been warned!

6. Don't Be A Dumb Gringo, Make Local Friends
The various precautions for traveling in Latin America definitely apply to Colombia, i.e. if things going too well with a girl they probably are, don't follow strangers down alleys or to remote areas of town solo, give beggars food but don't give money, don't leave your bags unlocked and/or unattended etc. You can avoid a lot of danger just by being aware of yourself and your surroundings.
Probably the best thing you can do for yourself is to make Colombian friends wherever you can go. Apart from the obvious benefits of helping you not get scammed, they are some of the friendliest people I have come across. They really want you to enjoy their country and will go out of their way to help you if you ask.
–
Colombia is really emerging as a destination for all sorts of people, including those looking to find longer-term personal and professional opportunities. Hope you get there one day!