As you may know, a few weeks ago I left the US and returned to Colombia for my second stint in the country. This time, I have returned to the city of Medellin. (Why Medellin? You'll have to stay tuned to upcoming posts… 🙂 )
There are several general reasons why I moved back.
1. Colombia is a solid place to adopt the digital nomad lifestyle.
As I wrote before, my life has significantly changed after going abroad the first time, and I want to live the location independent dream more than ever. I don't have income streams built up yet, but being in another country is one way to get your creative juices flowing. The liberation of jumping outside the box does something to elevate your soul!
In all honesty, I gotta make something happen soon, as I don't have infinite savings, but I right now I've have the attitude that I am either going to succeed at this whole thing or die.
2. Coming back to the US, I had a moderate reverse culture-shock.
When I returned to the US this summer, I noticed so many subtle things about America that are hard to relate to unless you've been abroad for awhile yourself…
For one thing, I noticed how many obese people were walking around. For another, I noticed how much colder everyone seemed. For another, I noticed a lack of joy in so many people.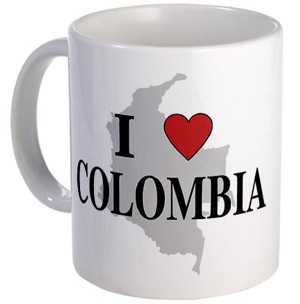 Few people greet one another with a kiss on the cheek. Few people are kind and helpful to strangers. Few poorer people are up and about hustling trying to make an honest buck.
In Colombia, things are different. On the whole, the people seem more connected, more friendly, more joyful, more amiable, more welcoming. The people aren't as obese. They aren't as cold. They aren't so self-absorbed. They smile more, they are more helpful, they dance salsa.
What if you find that living in American culture is not as desirable as you once thought?
3. Colombia is not super cheap, but you can live on a relatively small budget.
All other things being equal, why would I spend a whole bunch of money to live in the US when I can recover the cost of the plane flight and live in Colombia for much cheaper? It lengthens my entrepreneurial runway (i.e. the time I have before my money runs out). After all, all I need is basically a decent room with an internet connection and desk.
Furthermore, Colombia is only going to get more expensive in the future. Now is the time to be here on a budget if you are ever going to be here on a budget. Especially when you can take private salsa lessons for as little as $7 an hour.
4. Colombia is a good place to continue working on my Spanish.
The more I learn about Spanish, the more I realize how different it can be from place to place. There are wide ranging accents (and dialects, really) across the world, but most of Colombia has a very good, 'neutral' sort of accent. Learning Spanish here is very useful because it can be adaptable to other countries.
Not only this, but the necessary conditions of immersion are already in play when I live in a country like this. I have to do practically everything Spanish, so naturally I am absorbing more and more, even prior to any 'formal' study times.
5. I am looking to live and not just travel.
As I tell you on my revamped about page, my goal is not travel per se, but rather a certain lifestyle. I enjoy living in Colombia as much as traveling. I love meeting new people, hanging out, going out on weekends here. I love the culture and the Colombian spirit. Perhaps this can fade over time, but right now I am digging it…
If you are want to get a more visual idea what is going on here, check out the ridiculously awesome photography in the Colombia posts of Troy, another guy who is down here in Medellin.
6. I can slowly make my way down South America after my visa runs out.
Unfortunately, Colombia will only allow me (and you) to stay 6 months maximum on a tourist visa… So I either have to figure out another visa plan, or depart later this fall.
From Medellin, a flight to Ecuador can be found for around $200-250 (or less). In Ecuador, I can continue to live cheaply until my income streams are ramped up. This plan supports my long term goals, and gives me the opportunity to keep traveling down the Southern Cone at my own pace. I have a lot of things planned if I succeed in generating income… at the top of the list is exploring more of South America.
7. Last but not least… the girls.
In case you haven't heard, Medellin has beautiful women. Everywhere. Some of the most beautiful I've ever seen.
Every day I walk somewhere — the mall, a park, near a university– I see gloriously beautiful women. One day I realized that in Colombia there is a chance (a good chance) that your parking lot attendant or toll road operator is drop dead gorgeous… Do you know the effect this can have on a man's happiness?
It's like waking up and seeing freshly bloomed flowers right outside your window. It's hard to describe, but almost every man who visits a city like Medellin will know what I am talking about. It's effect should not be underestimated, and it's the reason why I keep meeting Gringos who decide to move here permanently. 🙂
—–
All right, folks, there you have it: why I'm kicking it in Colombia… If you're planning on coming here, holla back!