I just completed 2 full months in the capital of Colombia.
It has been an interesting experience so far. There are many things I like about Colombia, and Bogotá as well. But, having lived here for awhile, I do think there are a few reasons why you might sing the blues in Bogotá.
1) Bogotá Is Massive
If you do not like big cities, you will not like Bogotá. This city has over 8 million inhabitants, and has literally built itself to its city limits. The city is filled with cement– buildings, streets, structures, and walkways. It has a few parks, but in general, it has the feel of one gigantic downtown.
All the spaces in the town are developed. Apart from the mountainsides, there aren't many natural open spaces. So if you are used to a small town experience or enjoy plenty of trees, you may be singing the blues when you come here.
2) The Traffic In Bogotá Is Insane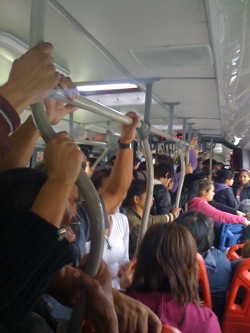 Probably the number one complaint I hear from Colombians themselves is the amount of traffic there is in the city. It literally takes hours to get across the city. If you travel by car, it is all the worse for you… During rush hour, the cars are bumper to bumper, and often move no faster than a walking pace.
Every weekday between 6:00-8:00am and between 6:00-8:00pm, it is best not to be traveling through the city. If you must travel during this time, be prepared to get stuck in traffic. (Taking Transmilenio– the high speed bus– is another option, but the people are packed into it like sardines during this time.) If you can't work with this timetable, you might be singing the blues.
3) Inhaling Fumes Is A Daily Experience In Bogotá
Associated with the massive traffic is the presence of fumes everywhere you go. Remember that Bogotá is fully developed, so when you walk out of a building, you are immediately next to the street, where cars, taxis, and trucks are constantly leaving a trail of exhaust in their trail as they whiz by.
You will have to deal with these fumes. Sometimes I think the only place for fresh air in all of Bogotá is the parks. Otherwise, you are constantly inhaling fumes when outside. This includes– no, especially includes— the times when you have to catch a bus or ride the Transmilenio. Here and there you will see people wearing masks over their nose and mouth to limit their fume intake.
4) Bogotá Has Incredibly Fickle Weather
On a normal day in Bogotá, I am wearing 3 layers to prepare for weather variations. It is possible in the morning to have clear skies and sunshine… perfect weather for a T-shirt and shorts. But then, 3 hours later the clouds roll in, and the temperature drops significantly… turns out you need long pants, a fleece, and a jacket to keep warm. This is actually very typical from day to day.
Weathermen are irrelevant in Bogotá. There isn't forecasting here. The weather changes over the course of a few hours, and because of the mountains in the east, you are never sure whether it will be rainy or dry, hot or cold, clear or cloudy. The weather is a constant variable, and this is something you might get tired of.
5) Bogotá Is Actually At A Really High Altitude
When I first arrived at Bogotá, I suffered dehydration and headaches partly because I wasn't prepared for such a massive altitude change. I only later found out that the height of Bogotá is 2,600 meters. (For you Americans, that is around 8,000 feet.) This is the height of some mountains in the US. As a result, you need some time for your lungs to adapt. You also have to be aware that you might get out of breath quicker doing your usual level of activity. If you like the sea level climate or the atmospheric levity of a beach culture, you might walk around annoyed here.
6) In Bogotá, Speak Spanish Or Struggle
When I first arrived, I was a bit overwhelmed by the Spanish required in this country. As a simple statistical fact, the majority of people do not understand English. Perhaps they understand very simple words like "no" or "dollar", but you simply cannot communicate with many people unless you know Spanish.
Think of all the areas where this might apply: buying something in a store, taking a taxi, asking directions, ordering food. All of these very important tasks you will have to do in Spanish… Are you ready for this? If not, you might not like Bogotá.
7) Bogotá Is NOT Altogether Safe
It can be said that Bogotá has similar dangers as any big city, like New York City or Philadelphia. And it certainly does. You need to be aware of the very strong possibility of robbery. Take precautions like: only carry a copy of your passport, only bring enough money for the day, don't wear expensive jewelry, etc.
But it needs to be said that there are certain parts of Bogotá you should NOT go to. This includes the better part of the south of the city. And it includes any narrow, deserted street at night. And it includes, really, anywhere alone at night.
I have personally talked to many natives from Bogota. More than 50% of them have been robbed (or attempted robbery) at some point, and many of them re-iterate the need to take precautions. If you don't like taking these precautions and you end up being robbed, there's a good chance you will get a case of the Bogotá blues.
BUT… This Is NOT The Whole Story
If you've read this, you might think that the blues are the only thing waiting for you in Bogotá. But this is not necessarily the case… There is much more to the city, including cool parks, great nightlife, friendly Colombians, and, of course, beautiful Colombian girls. It depends on what you focus on when you get here. You are in control of what you will gain out of your experience, and it is up to you to make the most of your trip.
Remember, very often whether or not you get the blues is up to you.