If you follow along on Facebook, there I posted a photo of Lapa, a section of Rio de Jainero that is famous for it's Friday night party.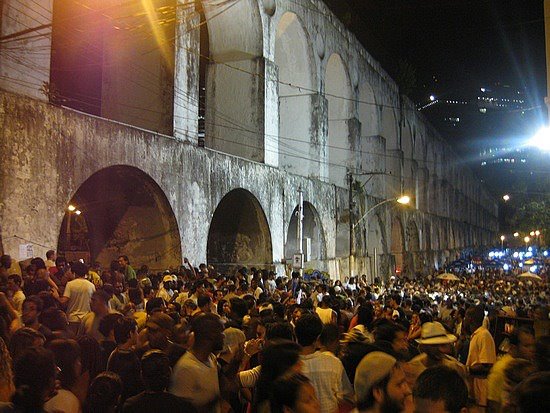 Admittedly, I didn't take this photo, but I just as well could have. That's what it looks like on a Friday night down near Lapa's famous arches.
Now, I am no stranger to large crowds of people. I've been to massive sporting events, parades, festivals, etc… but what was unusual here was that it just an ordinary old Friday night— in winter, no less– and there was this massive crowd of people there.
My time at Lapa was not my first night out in Brazil. I had been to several cities prior to my arrival at Brazil's tourist gem, including Sao Paulo and the highly-touted Florianopolis.
To me, Florianopolis nightlife, honestly, was sub-par at the start. This was probably because it was winter when I visited (June) and the island literally shrinks to about 30% of it's peak summer population. Not as many people are there, and so not as many people go out.
Sure, the prices were cheaper (I lived on less than $30 a day for many days at a time), but basically I didn't see much of what the hub-bub was about. In fact after 3 nights out in a row in Lagoa de Conceição, I was wondering if I was back in Ecuador.
The following weekend, however, I managed to hit up a couple of the higher-end clubs, El Divino and Pacha.
El Divino is an upscale lounge / restaurant in downtown Florianopolis, which at 1 am turns into a night club. They open the doors to a separate dance floor and get the party going, with mostly electonic music.
I was pleased at the 'talent' level at El Divino, as many ladies were dressed to the 9s, and I definitely saw a few girls who looked like classic Brazilian supermodels– slender, pretty face, high heels, just ridiculously beautiful. Unfortunately, most of these girls were already with their guys (egh… what'd I expect?).
Pacha Club, too, was a good night out. In fact, it was not just a night out. It was an event. You see, Pacha isn't open every weekend during the winter. In fact, it's only open 2 or 3 nights per month… so when they open, it's not just another night. It's almost like the entire island shows up for the party.
The entrance to the parking lot of the building was like entering an amusement park (wish I had my camera to show you a photo). It has a huge gate where all the cars and buses were trying to get through. There were numerous security guards and parking lot attendants trying to direct everyone around a massive lot.
Once we made it through the lines of people and walked in, nightlife in Brazil began to impress me. I had been in places with a ton of people… but here in this one club, there had to be at least 2000-3000 people. Massive, by my standards.
The setup was brilliant too, because the electronic dance floor was separate a little bit from the bar, thus the music wasn't as loud and you could carry on a conversation. And there was another dance floor outside as well, with music not as loud, with plenty of space for chatting up girls or hanging with friends.
There were tons of girls, too. Tons of girls not with any particular guy, not in any particular clique, and very approachable. (If I knew Portuguese I might have fared better, but I met a Spanish-speaking girl and that was that…)
The night was a lot of fun, and when we left at 530 am, the place was still hoppin. A good time.
But after being impressed with Pacha, Lapa in Rio just took it to another level.
Properly speaking, of course, Lapa is an area of town and not just one club. But still, the feeling is like you are in one big place. It is shoulder-to-shoulder people through the central streets. You literally have to twist and turn to walk through crowds. You've got live music, funk music, rock music, and spontaneous samba happening all around you. It feels like tailgating on steroids.
To me it seemed that most of the people went to Lapa to chill at one of the bars or to drink in the street. A lot of the bars seemed well-designed for this– they were open and enter-able from different sides. There were also seats outside along the street. So it made it easier to transition, if you wanted.
This seemed in contrast to Colombia, where a lot of the bars (like in Parque Lleras) are either closed off with fence-like railings, or are inside of narrow buildings only enter-able from one side. These types of designs seem to make things more closed-off for the curious passer-by.
The vibe felt different in Lapa as well. It seemed like the groups (whether just girls or mixed) were willing to talk to just about anybody. You could walk up to people and strike up a conversation. Everything was more fluid and relaxed.
In Medellin, you might get impressed with the nightlife, just because of the stunning girls you see walking by.
In Rio, though, there are so many options and so many people in one place, there's something for everybody. The 10,000 intermingling people that appear on a normal Friday night has got to make you genuinely impressed.
Brazil knows how to do it when it comes to nightlife.