So, I spent 6 weeks living in one of the principal cities of Ecuador, Cuenca.
Cuenca is located in southern Ecuador, a little bit towards the east. It is an old city with a rich history and a lot of old architecture. It's no surprise it's a UNESCO World Heritage site, with the impressive Calderon Cathedral in the central square.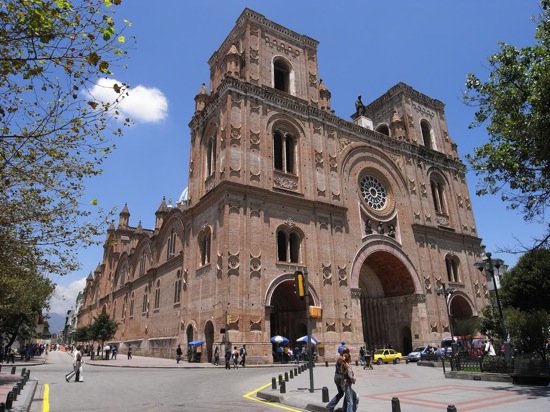 Cuenca was recently listed as the #1 retirement spot by International Living magazine. Thus, the number of US expats is noticeable, especially considering the total population of the town is only around 350,000. There are several ostensible 'gringo hangouts' in the city, if that sort of thing interests you.
One thing I really enjoy about Cuenca is that the main area of town is very much walkable. If you live within 6 blocks of the center, you can walk everywhere you need to go during the day. A car actually would be a hassle in a place like this, and you get to stretch your legs each time you go out!
By The Numbers
One of the principal reasons I moved to Ecuador was because it was fairly inexpensive to get there after Colombia, and offered a low cost of living. I could flatline my expenses while I worked on my online projects.
Here is an idea of what I'm talking about (Ecuador utilizes the US dollar for it's currency):
$240 – Rent
After a few days in a hostel with inconsistent internet, I switched over to La Casa Cuencana, thanks to the recommendation from Ayngelina. It was cozy enough on the top floor of the second building, and centrally located near Calle Larga (the main street for nightlife) that I decided to stay put there at $8 per night.
I had my own private room and a third floor terrace which I shared with few others in the building. Most days I had it all to myself, which gave me the space to get work done (when I was productive).
I did search for an apartment as best I could but came away disappointed. There is not a well-functioning website for short-term rentals in Cuenca (Hello entrepreneur??). The best luck I had was just asking around trying to find a place. On top of that, I looked at AirBnB, GoGo-Gringo, and the bulletin boards of various hostels.
Ultimately, the tradeoff for a cheaper place seemed to be living far from the center. I found a room in a house at $115 per month all inclusive, but it was an extra 10 minute walk to Calle Larga, and the rest of the restaurants and activities, so I didn't take it.
One note too is that the internet seems to be slower in Cuenca. From what I hear, there is only one company that services the entire town, and if you combine that with some cheap, old routers, it's not always reliable. I'd give the internet in Cuenca a B- or C+.
$300 – Food
When I documented my costs in Colombia, I realized that I was spending a lot on food. So, while I was in Ecuador, I made it a point to try to keep my daily food expenses at a $10 / day average. I frequently cooked my own eggs for breakfast and had fruit snacks in the hostel.
One thing about good about Cuenca is that you can always find an almuerzo (lunch) for $1.50 – $2.50, which includes soup, rice, salad, potatoes, and a little bit of meat. So after a low-cost breakfast and lunch, you have a certain allowance for dinner.
And, of course, I would frequently get tired of eating soup, rice, salad, and potatoes so I would order something more substantial when it came to evening mealtime. But generally, I kept the day total under the $10 number.
If you eat at the more expensive restaurants (like Tiestos), you can definitely spend more than $10/day. But you should definitely eat at Tiestos at least once.
$10 Taxi & Transportation
Like I said before, the central part of Cuenca is walkable. If you've got a good pair of shoes, you won't have to pay anything for transportation, so your expenses in this area approach zero.
The only other expenses you have are when you find yourself on the far side of town late at night and you need to get back safely to your house. This normally costs $2 for a taxi ride back to Calle Larga.
Buses are super cheap in Cuenca. If you need to hop on one to the mall or some other part of Cuenca too far to walk, it's only $.25 per trip.
$20 – Gym
Gyms are another thing that is cheap in Cuenca. I found a gym that was $15 / month with pretty decent equipment (+ $5 registration fee). There were other gyms that offered a daily entrance fee of $1-$2. Admittedly, the equipment is not always the best or the newest, but if you want to stay buff, there's really no problem.
$20 – Phone
Being a fan of pre-paid phones, I went ahead and bought an Ecuadorian SIM card with Movistar (the other main cell phone company in Ecuador is Claro), which cost me $7 and gave me a few dollars of minutes. I loaded the card with another $15, and that lasted me over a month.
Obviously you will have to pay a bit more if you are a popular character and your phone is constantly blowing up… 🙂
Speaking of paying for minutes, in my experience girls in Ecuador rarely have saldo (credit). They will call you and then quickly hang up so that you have to use your saldo to talk with them. So if you plan on keeping up with the ladies, you might need to be buying more minutes!
$200 – Nightlife, Fun, & Excursions
Here's something unexpected: I found nightlife in Cuenca on the whole to be slightly more expensive than nightlife in Medellin Colombia. I know, I know… how can this be?
Well, very simple… if the least expensive drink in the whole bar costs $5, you're going to end up spending more on your nights out.
You're also going to pay more at night if the idiots at the front of the club don't tell you the proper price of everything, or if they tell you bare libre (open bar), when in fact it's not bare libre… In Cuenca, you usually pay for the drinks and cover when you leave the club, at which time you find you suddenly owe 10 times more than you thought you did. Of course, by this time other drama is happening in your night, so it's not a pretty situation. (This deserves a post in and of itself.)
Of course, there are ways to cut your costs, like downing 2 for 1 mojitos during happy hour at Chiplote's… as I'm sure Dave and Gareth can attest. 🙂
But be prepared to pay a $10 cover and $5 or more per drink for the nicer nightlife spots in Cuenca. Thus, I estimate I spent around $50 per week, or $200 per month.
Total: $800
So, as you can see, you can easily get by for $800 per month or less. (If you are interested in the cost of a family in Cuenca, check out the Bryan and Dena Haines' website on Cuenca and the rundown of their costs. They write almost exclusively about Cuenca, and admittedly they are more frugal than I am!)
Like I mentioned above, I could have taken a cheaper place to live and cooked my own food. If you go out less at night, you can also reduce your monthly burn. So, a person who knows how to hustle could really get his costs down.
But Expenses Aren't Everything
Having said all this, I realized while living in Cuenca that if you are an internet entrepreneur trying to make the online dream come true, there is more to consider than just the cheap living. Sure, you are cutting your costs, but you have got to be happy where you live. I'm not saying I was unhappy in Cuenca, but it definitely was not a place I became enamored with like Medellin.
I mean, I think there is a major problem in viewing your life as one-dimensional, and I don't think it's helpful to think of lifestyle locations solely in terms of one factor. You are a complex person and if something is not gelling with you, it is not helping you live a prosperous life, and is slowing you down…
In other words, just because it's cheap to live somewhere doesn't mean you should live there.
Having said this, I'm glad I had a chance to be in Cuenca, and if you're passing through Ecuador, it's worth checking out.