Having survived my latest (and hopefully last) bout with Ecuadorian bus rides, I arrived to Cali a few days before New Years. Feria de Cali, which is known as Colombia's largest salsa party, was already underway, and I was eager to get a taste of it.
I had long been curious about life in Cali, as I had read a number of good things about it, including various blurbs about the beautiful women. It is Colombia's third largest city and is known for being the salsa capital of the world.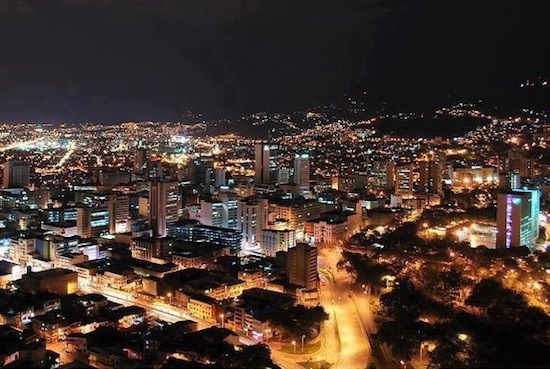 Backstory
Just the other day, I learned a bit of the recent history of Cali. In short, in the 1970s, Cali was the place to be and was emerging as a top destination in Colombia, even being the site for the Panamerican Games. It was where many Colombians (and tourists) went to party or for vacation.
But unfortunately a combination of corruption in local politics, of the continual national conflict which drained resources from the local economy, of the desplazados (displaced people) descending on the city from the surrounding regions due to the military conflict and severe floodings, and of ongoing mafia and drug trafficking wars put just too much stress upon the city.
As a result, Cali has just begun to gain it's footing again… In my opinion and 'feel', it seems to be more of what Colombia's cities were like in the 1990s and early 2000s than how they are today in the 2010s. (This intrigues me.)
Here are some positives I gathered about Cali:
1. The girls are very, very beautiful.
I sometimes remark that in Medellin, you might 'fall in love' with your cashier. Welll, guess what? There's a good chance your cashier in Cali could be a really cute girl as well. There are a lot of beautiful girls in Cali, including those that work at hostels… 😉
Cali is also known as a top place in the world to get cosmetic procedures done, and it's quite obvious the plastic surgeons there have worked on some of Colombia's finest talent. At other times, the final results of these procedures appear quite comical… Aaaaaaaand that's all I'll say about that… 😉
There's also a different vibe to the girls in Cali. If anything, they seem more down to earth and chill than other parts of Colombia. The few that I got to know, I've thought, 'Wow this girl seems really cool.'
2. It's hot only during the day.
Everything I read told me "Cali is hot" but when I arrived, I can say I was pleasantly surprised. During the main sunshine hours between 12pm-4pm, yes it is a bit hot. But when night comes, it's actually quite pleasant. This makes it good for going out at night. There is often a strong breeze running through the city too.
3. It is less discovered than Medellin.
One obvious fact that stuck out to me is that there are nowhere near the number of hostels in Cali as there are in Medellin (possibly due to the fact that there are limited touristy things to do in Cali). And the ones that are there are not all bunched together in one place, either. There doesn't seem to be a 'tourist' district (yet).
Also, several times we went out to some main clubs where we were the only foreigners in the whole place. One time a group of Colombians even wanted to take their picture with us, simply because we looked so different, and one of the guys wanted to introduce me to his sister. This all happened suddenly, without any leadup conversation.
Now, this type of thing doesn't usually happen in Medellin (anymore). Sometimes it happens when you venture out into the barrios, but Medellin has had a large exposure to tourists over the past several years, while Cali has not had as much.
This of course, has its benefits… you can have a bit more 'exotic' status as a foreigner.
4. Nightlife can be a hit
Feria de Cali for me was honestly a bit disappointing. To me, salsa is the type of music you need to dance to, not listen to. If you're just listening to it, that cow bell they keep banging can get a little annoying.
Well, the feria was full of salsa concerts that were 6-7 hours long, and 95% of the people there weren't dancing. They were just listening. To salsa.
Donk-chika-donk-chika-donk-chika-donk… can you hear that salsa with the cow bell? It was like that for hours and hours on end. For me that was not all that exciting.
However, Cali nightlife can be fun, especially if you meet some other Colombians and head out to a proper dance venue. The standard groups-table-and-bottle setup still applies, but nightlife in Cali can go really late– even until sunrise in areas like Menga. The only thing is that sometimes it's hit or miss with the venues… you'll have to get some Caleña intel to know which are the good nights to go out and where.
5. Costs of living are roughly similar to Medellin.
Overall, I didn't see much cost difference between Cali and Medellin, and thus it makes for a solid medium-cheap geoarbitrage destination. There were similar supermarket and store prices, and similar costs to use the transit system.
The selection of places on Airbnb for short-term stays, though, was a lot smaller than in Medellin. If you were going to live here, it would take some time on the ground to figure out where you would want to live. The Grenada / Versailles area seems to be the 'El Poblado' rough equivalent, with the nicest buildings, streets, and cafes. Chipichape seems to be the premier mall of the city, and a hotspot to hang out at during the day.
Side note: There aren't that many international flights from the Cali airport– from the USA there are only two direct from Miami.
Having said all that, here are some possible reservations I have about Cali.
1. City layout is not as organized.
Cali does not have a metro but rather an intra city bus system, similar to Bogotá. While this enables you to get around on the cheap, it generally takes awhile, and is much more of a hassle than the intra city transport in Medellin.
Cali has some nice, modern-looking neighborhoods as well as some older, dirty ones. Occasionally you will roll through a run-down neighborhood, or one that just looks like it's seen some hard days.
Also, the hotspots for both day and night seem to be scattered throughout the city, and apart from a few malls, there doesn't seem to be an 'epicenter' to the city. You'll have to hop around and have good timing.
Side note: At one point, I stayed in Jovita's Hostel because it had been mentioned by some other bloggers. I would definitely not recommend the hostel, as the facilities and staff were very subpar (as of this writing it has only a 71% rating on Hostelworld).
2. The safety issue… is an issue
I felt less safe in Cali than in almost any other Colombian city I've been to. Statistically, more homicides were committed there in 2012 than any Colombian city.
I got more warnings about where to go and not go than I had been used to… In fact, when I first arrived, I was given a map of the centro historico with prominent markings on it, indicating where I could walk freely, where I could go with caution, and where I definitely should not go.
Later when I was staying near Avenida Sexta, I constantly had to walk around and avoid shady figures, homeless people, and mendicants. Combined with the fact that I rarely saw a policeman or security guard, I felt I could very well have been mugged there if I hadn't kept an eye out.
And apparently as late as 2011, there were mafia / drug wars between two rival gangs in Cali, causing killings and kidnappings to reach near crisis levels. Also, historically FARC and other paramilitary groups have been closer to Cali than to other major cities in Colombia.
So, just to re-iterate– statistically Cali is in fact a dangerous city, and I felt less safe there than other cities. You have to be careful where you go. I really wouldn't recommend Cali as an exploratory destination for an older, gringo-looking tourist.
3. The dreaded mosquito problem.
I watched a fascinating TED talk the other day about solving the problems caused by the world's most dangerous animal. Do you know what that animal is?
Sharks, snakes, rats? Nope… It's the mosquito.
The mosquito is responsible for more deaths cumulative than all other animals combined, and the annual statistics for malaria, yellow fever and dengue fever cases are astonishing. Many areas of the world suffer epidemic levels of these mosquito-borne diseases.
Unfortunately, Cali has a mosquito problem. I myself was bitten countless times… and if anyone disputes this I have a photo of my foot covered in 20+ bites.
Not only do I hate mosquitoes with a passion, I seem to attract them easier than most humans I know. They did not leave me alone the whole time I was there. (Closing the windows and turning on the air conditioning is still not in widespread practice in Cali.)
So here's hoping Cali will sign up for one of Oxitec's trials. In fact, I could be persuaded to donate to this very cause to get the ball rolling.
Overall
Cali is very intriguing to me. It's a city with both beauty and danger. (It's funny how this type of thing can attract a man, heh). Plus, it seems to be in the early stages of picking up some steam, in terms of notoriety and tourism.
Out of the 6 major cities I've visited in Colombia, it's one of the top ones I look forward to returning to.