I really could just end the post right now, because with the title I've told you the biggest things you need to know about Cartagena.
But, I actually took out my camera out a little more than usual when I traveled there, so this post is a good one to stick around for.
The City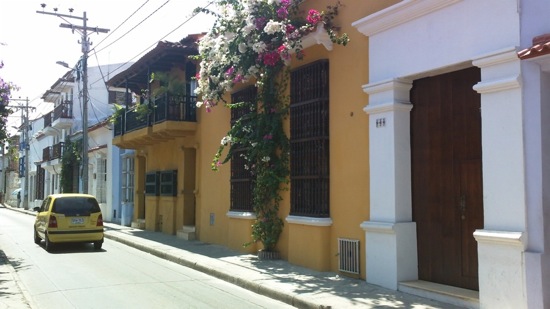 Cartagena is located on the Caribbean coast of Colombia, about half way between Venezuela and Panama. It is best known for its historical district, full of colorful colonial buildings nestled alongside narrow streets. (Yes, I just used the word nestled.)
Near the center of the historical district is a large clock tower, or Torre Reloj.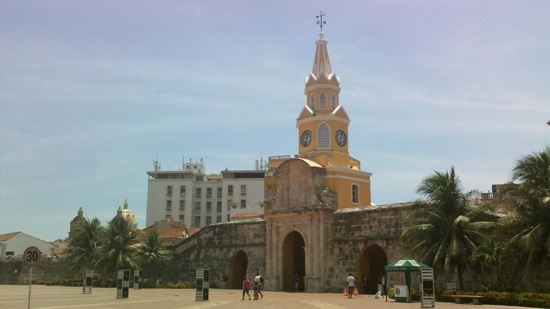 The historical district is highlighted by a massive, 16th century wall that runs around the perimeter. It is really a marvel, and is the 2nd biggest wall I've been around (the other being the Great Wall). It is extremely wide and you can walk around the perimeter.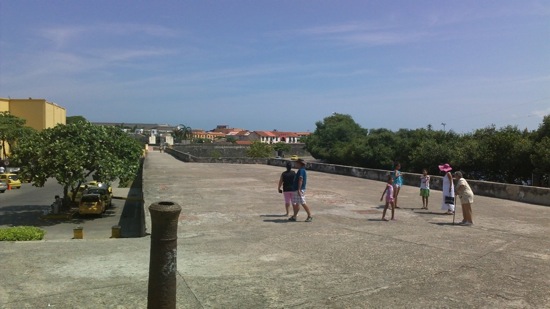 It probably takes a good 30-45 minutes if you want to walk along the entire wall. There are several kissing spots along the way where lovers sit down along the wall or in the openings to chill out. It is a really great walk at night when it is not so hot.
There is one narrow part that you can walk across if you are daring…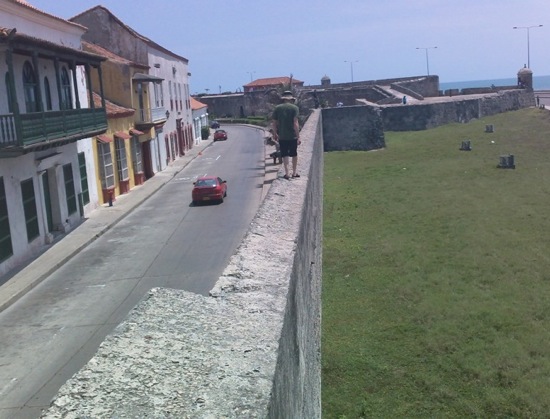 Also there is Cafe del Mar (Cafe of the Sea) on the northern part of the wall, looking out over the ocean. It is a restaurant with a big tourist appeal. It is pretty expensive but offers some great views.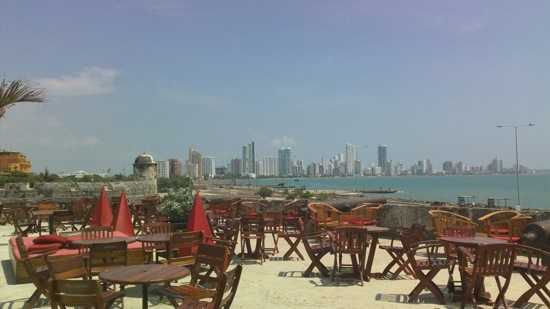 As you can see from the view, to the west/southwest of the historical district is a part of the city totally taken over by condominiums. Cartagena has become quite a booming tourist spot over the past few years, so the condo builders have swooped in to build their towers. (There are some restaurants and clubs in this area, but obviously the condos are the leading architectural feature.)
Other Spots
A short boat ride away from the Cartagena coast is a famous white sand beach called Playa Blanca (White Beach) and the Islas del Rosario (Rosario Island). I didn't get to visit those places, but I've heard they are great for a day trip if you like beaches. Rumor has it also you can swim with dolphins.
Apart from the historical district and the condo / "ritzy" part of the city, many parts of Cartagena I drove through seemed much like the rest of Colombia, or perhaps even poorer. In fact, on the drive to the bus station, we passed a small inlet full of trash and waste unlike I've seen in other parts of Colombia. It was literally a waterway dump –which, yes, lead to the ocean.
It was also not uncommon to see run-down houses and make-shift merchants along the roads in the other parts of Cartagena. The historic district seems like it's own enclave.
A Few Tips On Cost & Lodging
Things like food and lodging are more expensive in the historical district than in other parts of Colombia… So if you're planning to stay here for awhile, remember to bring some extra money. That doesn't mean you'll break the bank, but there are definitely some high-end restaurants and clubs here.
For example, I had some small fish and a coke at this posh restaurant– one that apparently Anthony Bourdain reviewed on his show– for like 20 bucks. It was nothing to write home about, and I was not too happy as that is about 3-4 big meals in other parts of Colombia.
You can find hole-in-the-wall places for a cheap lunch in the southern part of the historical district… However, you'll want to watch for crawling critters in your salads!
If you're into staying at hostels, a really good social hostel at a decent price in a good part of the historical district was El Viajero. You can probably find some folks there to explore Cartagena with, especially if you came solo. (Beware that this hostel is very much run like a business, e.g. there's not a lot of extra space, you will have to prepay for your room, etc.) If you want a more relaxed setting with fewer people, check out Casa de la Chicheria.
Oh, also…
There's a mud volcano about 45 minutes away.
"A what?"
See for yourself: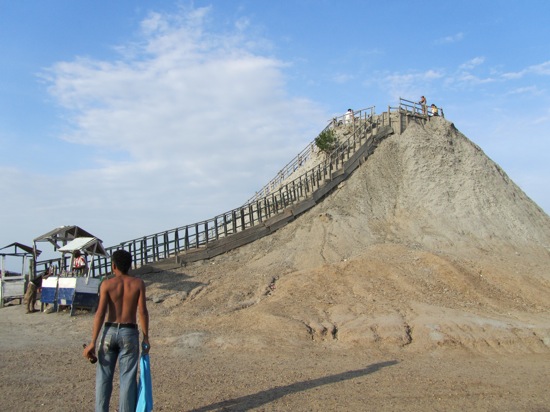 It's literally a volcano with mud in it. It doesn't erupt or anything, it's just full of mud. The idea here is you just climb up to the top and get in.
The experience is basically getting in and bobbing near the surface. You don't sink because of the density of the mud, but it feels like you are moving around in pudding. You don't have total control of where you bob and rotate. So there are workers who will push you from one side to the other, and will even give you a rub down if you want one (get one, it's great).
Try to go to this thing in a group if possible (perhaps from the hostel)… it is absolutely hilarious. Everybody gets into it and gets totally covered.
When you're done, be careful coming down the steep stairs, and then head over to the water and get one of the ladies there to wash you off– definitely another thing you should get… worth the tres mil (3000 pesos). After you're all washed off, you dry in the sun or with a towel and maybe enjoy some watermelon from the vendor near the buses.
Seriously, if everything else on my trip had gone bad in Cartagena, this muddy hilarious experience would have made the trip. It was one of the most hilarious things I did in Colombia.
Final Thoughts
Cartagena was a really cool city to hang out in. As with other places, I really wish I had got to know some of the locals a little bit better, but I was really glad I went. It is a great city with a lot of charm and beauty… Just remember it's freaking hot here.