So guess what I received in my inbox last week?
U.S. EMBASSY

BOGOTA

WARDEN MESSAGE

February 17, 2011

This Warden Message alerts U.S. citizens traveling to or residing in Bogota, Colombia of demonstrations throughout the city.  The truck driver protest which began on February 15 at several sites throughout Bogota is continuing today, as an agreement between the Government of Colombia and the truckers' representatives has not yet been reached.  However, if an agreement is not signed by tonight, the government will order local authorities to remove the trucks, which may result in violence.  The truckers are still blocking intersections at Calle 13 at Fontibon, Avenida de Americas at Avenida Ciudad de Cali, Avenida de Americas at Carrera 70 and Avenida Boyaca at Calle 13.  Official Americans have been strongly advised to avoid the areas marked below until the situation has been resolved. All U.S. citizens should maintain an increased level of vigilance and should monitor media coverage to stay abreast of the situation as it develops.
A Truck Driver Strike!
Now, this strike had been going on for awhile. The notice said that the protest began February 15th, but actually it had started 2 weeks ago, albeit with lesser force on the part of the truck drivers. But since the strikers did not get what they wanted, the escalated their protests.
Basically, the truck drivers parked their trucks in the middle of certain major intersections in Bogotá, blocking all traffic in those areas. The map below shows the locations in Bogotá where they set up these blockades, as well as the location of the US Embassy in Bogotá.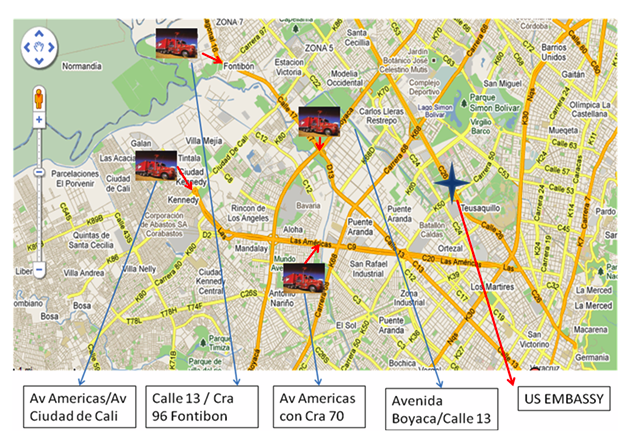 Luckily Bogotá is humongous, so I was not directly affected by the strike. (In fact, I didn't even get close… For a picture of one blockade, see this article.) I spend my days in northern Bogotá, which happened to be away from all the commotion. But I was glad to get this message in my inbox.
How I received this helpful email
So, in lieu of receiving the email, I would like to give a plug for registering your travel at the U.S. Department of State.
I like the fact that I got an email telling me some of the relevant details of what was going on with the truck driver strike. I was glad to hear a description of where the blockades were, and how I might be affected. This was especially important to me as I do not routinely read the Colombian newspapers here, and generally can't understand the cable news yet. (Though, it was all over the news.)
Registering with the Department of State was a good move, if only for the fact that I got on the mailing list for U.S. citizens in Colombia. This enabled me to receive information that might be relevant to my travels. Granted, it is government-sponsored information– something I don't put too much stock in– but it was helpful nonetheless.
So, I would commend it to you. Just visit the Bureau of Consular Affairs to register. (You don't have to enter in a lot of information. In fact, I think I entered in the minimal amount, plus an emergency contact number. It took all of 10 minutes.)
And it turns out this was not the only time…
Furthermore, strikes are not all that uncommon in Colombia. I have spoken with several Colombians and they have told me that there are strikes that occur fairly often, perhaps once a year.
For example, the teachers seem to strike often, and the health workers strike often in the south of the city. About 6 years ago, the taxi drivers had a strike and blocked major routes of the city. They blocked school buses from getting home, and children were stranded for hours on the bus even into the night. It was quite dramatic for everyone involved, including the local government.
So take note…
What you need to understand is that something like this definitely could have affected your travel plans in Bogotá, especially if you wanted to drive to the south or to the southwest of the city. In fact, one possibility I had last week was traveling to La Mesa, a smaller town outside Bogotá, but that possibility was canceled because of the insane traffic delays. It just wasn't worth sitting in 3+ hours of traffic to go 10 miles.
It's true these strikes in Colombia may not be as dramatic as, "There's no school today… the government's been overthrown." But still, it is good to be aware that this thing might happen.
So, just know that if you travel to Colombia, there may be some strike going on... Viva Colombia! 🙂