The secret is getting out on Medellin. I've been blogging about it for nearly two years, and more and more travelers are coming here every day.
If you've ever Googled "Medellin" you've probably come across Medellin Living. It's easily the #1 Medellin website for English speakers, and contains loads of great info on life in the city, from accommodations and visa considerations to nightlife and restaurant options.
If something's a hit in Medellin, there's a good chance my buddy Dave (the owner of Medellin Living) has an article on it. If you keep up to date with his site, you'll know the highlights of living here, including those times when you get to pose with hot Colombian underwear models: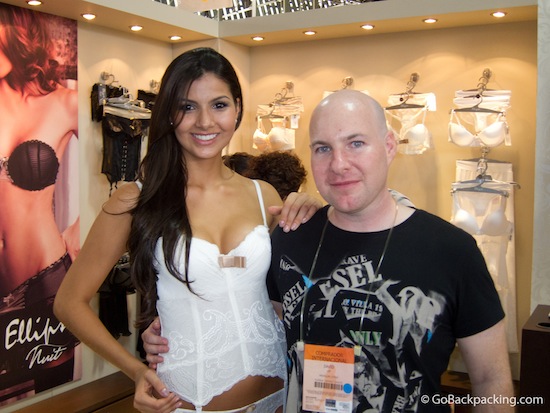 Just recently, Dave has released his very own Medellin Travel Guide, which contains all the essential info a traveler needs to know when coming to the city, including:
When to visit Medellin
How to understand tourist visas
How to budget properly
How to get internet and SIM cards
How to stay healthy and safe in the city
How to utilize Medellin's public transportation
Where to stay in the city

You got all that? OK, but there's more…

The top 9 things to do in Medellin
Four solid gym options for working out
Five museums worth your time
The best restaurants in town
The best places to go for nightlife
Practical advice for dating paisas
Pueblos worth visiting near Medellin
and much more covering a solid 138 pages.
There are few other English-speaking bloggers out there who knows as much about the city as Dave, and he has a knack for compiling useful information into an easily consumable format.
I myself have toyed with the idea of creating a guide like this, but Dave beat me to it. 🙂
What I like about it is that it is thorough, and well organized, so you can easily find the info you're looking. It is also well linked to relevant posts on his blog, so you can check them out for further explanation and details of what he covers. Finally, he includes some really cool pictures and places them throughout the guide.
It's an intensely practical book on things relevant to the traveler or expat in Medellin. So if you are thinking about visiting Medellin, planning on visiting, or have just arrived, I recommend you check out his guide for all the essential info you need in one place.
By the way, I am a happy affiliate of Dave's book because I think you'll gain a lot of value out of it.
Check out the PDF version here or the Kindle version here.
Or you can learn more about the guide here.
Oh, and if you've come to Medellin and got any more pics of Colombian underwear models, send them my way! 😉