– Wow! It has been too long since I last wrote, so today's post is a good 1200 words.

–
As some of you may know, I returned to the US in early May from Colombia, a trip which was my first extended experience abroad.
When I got back I noticed I was different. It's difficult to describe, but going abroad has changed me in some major ways. Some of them are internal… Nowadays, for example, I feel more myself than ever before. I feel more relaxed. I feel more at ease. I feel more confident in myself.
One girl told me upon my return that I look more happy now than she remembered me. (I didn't know this girl very well before, but I really liked the compliment!)
Anyways, I reflected on how the whole experience affected me, I realized that there are a few concrete things that are now at work in my life, things which have very practical applications…
I want to go abroad more.
Colombia is great. I loved almost everything about it, but perhaps the biggest thing I learned was that there really are more worlds than the United States. There are different cultures and attitudes. There are different expectations. And there are different ways that people normally act and react. Just the experience of meeting new and different people from another land helps you appreciate humanity.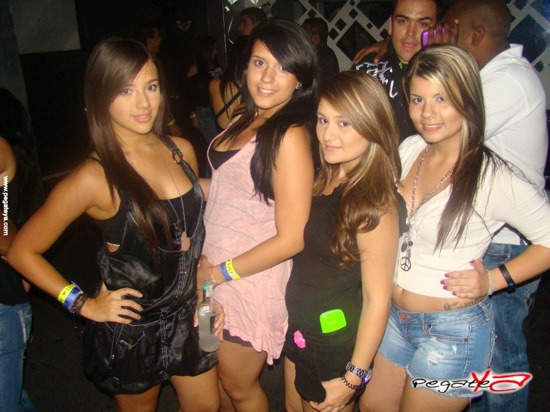 It's more than just the girls, I promise!

Seriously — if you've only been in America and only known Americans principally, it's hard to realize that there are actually different kinds of people. I had been to other countries before, but this time it was like a breath of fresh air… and I want more of it, and I'm planning on going abroad again late summer of 2011.
I am simplifying my life.
Just 1 year ago, I inhabited a 3 bedroom, 2 bathroom apartment all by myself. At that time, I didn't know anything about Couchsurfing, so generally speaking the apartment was pretty uneventful. It was such a waste of space!
Last fall I moved into 1 bedroom in a house with a couple of other guys and substantially reduced my possessions (particularly furniture). I really think it was a great move because it was a step in the right direction and I got rid of a lot of stuff. Then when it came time to leave for Colombia, I had another round of reduction.
Now that I have been back, I am transitioning into what I hope is a "fully" simple lifestyle. I don't know if I'm fully in line with the concept of "minimalism", but I definitely like the concept of simplicity, and not having more things than you need. For me, having more things occupies my attention unnecessarily. It like attaching a rope onto your backside and adding junk onto the rope. It is just dragged everywhere you go, and becomes a deadweight to your own movement.
What this looks like practically is that I am in the middle of converting everything I have into a small 5 x 5 storage space. I am doing this mainly to prepare for longer term travel, but also to be able to move more easily within the Florida and the rest of the US. I could now rent for a few months here, a few months there, with no problem because the bulk of my stuff stays in one place. I can renew my rent online, and my stuff doesn't require any more attention than that.
No, I'm not going to start blogging about minimalism…
For several reasons I realized that I could not be a minimalist "purist" and get rid of everything except for my backpack and a laptop. I have things of sentimental value like pictures, memorabilia, minor things from my past that I want to hold on to. I also have a ginormous supply of books. And, though I am significantly reducing the number of books I own by giving many of them away, there remain some books that I really want to keep. And then there are miscellaneous things like my awesome golf clubs, my super-comfy lazy-boy, and some important paper files.
Maybe I will get rid of all of them someday, but why be such a legalist?
I am converting everything into the cloud.
The 'cloud' are those servers that are in a different location than you are, but are accessible from anywhere. I am beginning to throw everything up there. I am moving:
My phone number into the cloud by using Skype & Google Voice
My backup into the cloud by using Mozy
My documents into the cloud using DropBox and Google Docs
My notes into the cloud by using Evernote
My web content into the cloud using Amazon S3
I am going nuts on this. I'm trying to turn everything into a travel-friendly accessibility model. One inspiration along the way has been Cody's really great list of resources for the location independent entrepreneur.
Also, I am trying to develop multiple access points while abroad instead of just my laptop, such as a smart phone or tablet. I experienced the Debbie Downer of breaking my iPhone abroad and it was awful because I didn't have a backup or a plan B. So, when I get a smart phone or tablet for use anywhere, I am definitely making sure it has the proper protection.
Also, good news– I got a Kindle! Do you see how this totally gels with reducing my book load and moving everything into the cloud? Now, I literally never have to buy a physical book again. I can buy them for the Kindle and they are stored in the cloud, so if I ever lose or break my Kindle I can access them. And I can take my Kindle anywhere in the world, meaning I can take my books anywhere in the world! (…By the way, thanks Benny for a really stellar video overview of the Kindle.)
I want to live the location independent dream more than ever.
Before I left, I definitely had in mind that I wanted to develop online income streams… but now, that desire is stronger than ever. Having passive income, especially online, seems to me to be the ideal situation of where I want to go, and so I am moving full-steam ahead into a half-dozen projects (most of which are still in the top-secret phase

).
But one project not top secret is this blog. I have some major ideas for what goes on here, but they will do nothing as long as they are in my head and not out in here in the world. I think blogging is a really great tool to connect with people, as well as generate income, and so to that end, I am stepping it up: I decided to attend the TBEX conference June 9-11th for a meetup with like minded folks and world travelers. Let's brainstorm and converse and see what we can come up with. Definitely hit me up if you'll be in Vancouver.
I haven't talked too much about entrepreneurship on this blog, but it is one of my major passions and now is only growing. I want my businesses to succeed soooo badly it hurts. I know it will take long hours of sweat and carpal tunnel, but I have come to the conclusion that either I will succeed or die… Those are the options.
So let's get it on!