Today I am going to show you how Brazil can be affordable.
This comes from what I've actually been doing for several days this past week. So this is tried-and-true, boots-on-the-ground verified.
However, I do admit that this kind of thing requires significant lifestyle adjustments… i.e., no, you aren't going to eat out three times a day, have a private room, or hire a chauffeur to take you all over the island.
It is, rather, a tactical way to stay in Florianopolis Brazil for less than $30 per day, if you happen to be super budget-conscious.
Ready?
1) Pay attention to exchange rates.
I hope you've read my post on exchange rates, because it becomes fairly important for a traveler. A matter of months (or, on occasion days) can make a significant difference in the cost of going to a certain place.
This time last year, for example, the US Dollar to Brazilian Real (USD/BRL) was around 1.6. As I write this, it is around 2.05. Thus, all things being equal, Brazil is about 20% cheaper for me right now than it would have been if I traveled last year.
2) Arrive in late fall or winter.
Florianopolis swells to over a million people in the summer time, but in the off-season everyone leaves. They say only 300,000 people remain on the island during the winter… This means prices are lower.
It means a lot of things, really… i.e. you will see empty shops, closed cafes, and hotels that look like they've been abandoned. It's literally two different worlds in terms of summer vs. winter here.
If you come in high season, you are going to pay $30 or more for a dinky little dorm bed. There's no way you're going to have a low budget on that trip, buddy!
3) Stay in Barra Beach Club in Barra da Lagoa.
Florianopolis isn't one big city. It's really a big island made up of separated towns. One small town on the eastern side is called Barra da Lagoa. It's basically a fishing spot with a bus stop, a beach, some shops, and a turtle preservation project.
Barra Beach Club (as I mentioned in my first impressions) in Barra da Lagoa is one of the best value hostels I've been in in South America. You can get nights here that include free breakfast (if you get up before 10), so that takes care of one of your meals. The property is spread out, so you can walk around and not get claustrophobic like you would in other hostels. It has a bar and pool table. It is cleaned every day and has a great staff. They also have free surfboards and wetsuits to use.
It's such a great value. And, the best part is the ocean view…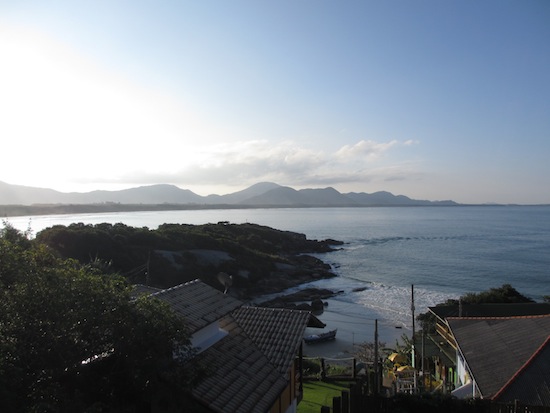 Dorm bed here during winter is $15 (= 30 reals).
*** I should also mention that in the same neighborhood as the hostel, you can find a one-bedroom apartment for $300/month (=600 reals). That would put your lodging cost per night down to $10. ***
4) Pay-to-eat only once per day.
I recently tweeted about a new practice I have employed of eating only once per day. More specifically, I mean you pay-to-eat once per day. (So if there's free breakfast or something, it doesn't count.)
The key to doing this is to find an all-you-can-eat setting. In Foz do Iguaçu, for example, there was a Brazilian steakhouse that offered an all you can eat buffet for $10 (=20 reals), and I ate there every day.
In Florianopolis, they have all-you-can-eat buffets, but probably the most convenient thing is to just eat at the Barra Beach Club hostel (…since you're staying there already, right?) Every night you get a home-cooked meal, which is all you can eat, for $7.50 (=15 reals).
Combine that with the free breakfast, and I think you can manage, right?
5) Don't drink.
Any place you go in Florianopolis will have the cheapest beer at 5 or 6 reals ($3). If you like drinking, you won't be able to manage a budget under $30.
Actually, if you stick to this budget, you'll have a few bucks per day left over to get a drink at the bar if you want, or buy yourself a snack.
—
However, if you are uber-good at this and only spending $15 on lodging and $7.50 on food per day, that leaves you with another $7.50 to spend to keep it under $30, right?
Well yes, but you have to pay for bus rides ($1.50 each way) to get anywhere in Florianopolis, so factor that in. And, on the weekends you might want to go out at night, which would cost extra.
If you are a savvy cat, then, and you save the extra $7.50 for the 5 week days, that means you have an extra $37.50 to spend on the weekend.
That might just squeak you in to El Divino or Pacha Club.
—
So, that is how you live in Florianopolis for less than $30/ day.
Bare-bones? Yes… Do-able? Absolutely.