Listen, if you have poked around the blogging world, or especially the travel / adventure blogging world for awhile, you might have heard about ExOfficio Give-N-Go underwear.
I first wanted to try them on last year as I was preparing to go abroad the first time. I looked around and saw they were mentioned everywhere… Tim Ferris talks about them. Dan Andrews talks about them. Gareth Leonard talks about them.
Many people list it on their "gear" page or their packing list post as an important component to their traveling lifestyle.
While I don't have a gear page or a packing list post (yet), after wearing them I can attest that no other piece of clothing has done as much for me as this underwear. It's that good.
I had no idea that I needed an underwear upgrade, but suddenly I realized how important this piece of a man's wardrobe is. This one change in apparel has increased my happiness quotient by 10% all by itself.
Why This Matters To Males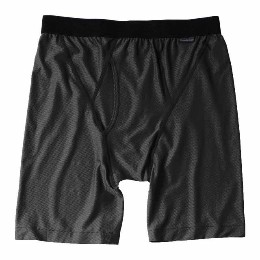 Think about it, guys… There are few pieces of clothing that hit closer to home than your underwear. There are few pieces of clothing that have such incredible potential to make or break your mood at any given time. That's why you need to have a solid choice in underwear. You can't mess around and pick any old jock strap and expect yourself to be at ease.
I mean, your confidence level can be majorly affected by what goes on inside your underwear… am I right? That's a place on your body that you simply cannot afford to treat flippantly. You need a piece of clothing carefully constructed and strategically positioned to give you the best performance. You don't want to mess around with this.
I had been previously using some generic brand of cotton boxer-briefs and they had served me well, but just look at how ExOfficio's underwear totally owns my old stuff…
1. Wicking
The past decade has seen the growth of moisture-wicking fabrics, and nowadays practically every profesional athlete uses them. You've seen commercials illustrating this. A wicking fabric helps move extra sweat away from your body, so that irritation and discomfort from body perspiration are reduced.
No one likes to be Mr. Sweaty in his underpants– the effect of wicking should not be underestimated.
2. Odor Resistant
A huge feature of Give-N-Gos are their resistance to foul odors. You probably realize that because underwear surrounds such active parts of your body that it can collect some odors from time to time. ExOfficio does all of us a favor by making this fabric blend odor resistant. A covering of Aegis Microbe Shield controls odor-causing bacteria on the underwear, relieving you of potential embarrassing noisesomeness.
(Yes, you have to wash them eventually, but the stink collection factor is not nearly as bad as your typical cotton.)
3. Quick Drying
Right along side of it's wicking power is the fact that this underwear is quick drying. Hang it up, and in a few hours it will have dried off. This is very helpful because it is also…
4. Shower-Washable
This is quite possibly the most traveler-savvy, minimalist-friendly feature about this underwear. When you take your shower, just wear the pair you've got on into the shower and wash it while you wash. When you get out, hang it up and in a few hours you have fresh underwear.
No need to find a washing machine or a laundromat around the corner of some dark alley in the middle of the 3rd world… Just wash them while you're in the shower. Booya!
This reduces how quickly you go through your clothes supply and can be really helpful on the road where you don't want to be bothered with keeping track of dirty laundry and just want to get by for a few days.
5. Over-all Comfort
Look, the bottom line of this underwear is that it is just better in every way than my old underwear… but what would be the use if they felt worse to wear? The reality is that Give-N-Go underwear feel a lot more flexible and a lot more comfortable than my old stuff. It feels good and it always makes me relaxed in all the important areas.
My Underwear Revolution
So, I hope you can understand what a breakthrough this is for me. I am set on my underwear. I don't even want to remember what kind of crusty cotton things I was wearing prior to these.
The fact is I am a convert, an evangelist. I am utterly sold.
And after a successful pilot program with these down in Colombia, I am prepared to wear no other underwear but ExOfficio underwear.
It is really such a high quality item, and I suggest you check out the rest of ExOfficio's stellar line of clothing for travelers and adventurers. (I really think you should give the Give-N-Gos a try. I am a boxer-brief kinda guy, but they've got boxers as well.)
Now I can travel the world with confidence, knowing I've got the best stuff on underneath.
Note: ExOfficio is now my official underwear sponsor, but this represents my honest opinion about their underwear. 🙂