Why hello there, you've just come across a massive post covering my recent trip to Brazil.
Instead of creating 3 posts for each city like a good travel blogger, I've written my longest post ever, more than 6500 words. It's all just for you, my dear reader… and you don't have to bear a single annoying popup.

I've even put a little index here so you can click to go to your section of interest.
Introduction: My Strategy and Philosophy ::  Foz do Iguaçu :: Porto Alegre :: Florianopolis :: Curitiba :: São Paulo :: Paraty :: Rio de Janeiro :: Belo Horizonte :: Importance of Portuguese :: Concluding Thoughts
Also, turns out I'm celebrating 2 years of blogging with this post. So if you like it, show me some love and share the heck out of it! Thanks / Gracias / Obrigado!

–
Introduction: My Strategy and Philosophy
Originally, I planned this trip as a blitz through the major cities to determine liveability. I would be looking at a number of factors, including cost of living, climate, city layout, public transport, aesthetics, girls, attitude of the people, opportunities, topography, demography, etc., in accordance with my lively but sensible bootstrapper lifestyle. In essence, I asked myself if I could see myself living there for an extended period of time, keeping in mind I already have one city I am very partial to, and the fact that you don't need to live in every city.
In the process of searching for liveability, I've discovered a helpful principle: coming to a "No" can happen a lot faster than coming a "Yes" for any given place. So, I made sure to give ample time to the more well-known spots like Florianopolis and Rio de Janeiro, while limiting my time in the lesser-known spots or spots that I pretty much knew I wouldn't enjoy living in. This turned out to be a good strategy.
** By the way, you currently need a visa to enter Brazil if you are traveling on a US passport. You have to apply for it at the Brazilian embassy in the US prior to your trip. **
Without further ado, here we go…
Foz do Iguaçu
The number one thing you're thinking about if you visit Foz do Iguaçu is the Iguazu Falls, which are some of the biggest waterfalls in the world.
They don't disappoint. If you get a chance, make sure you go.
The falls are situated on the border of Brazil and Argentina, which confused me initially until I saw a map of the borders those countries share with Paraguay, a country in which I got itchy feet after only 3 days. Argentina basically jets a thumb out into Brazil, and that's where the actual falls are. Here is a simple map so you can see what I'm talking about (the actual falls are at the bottom right).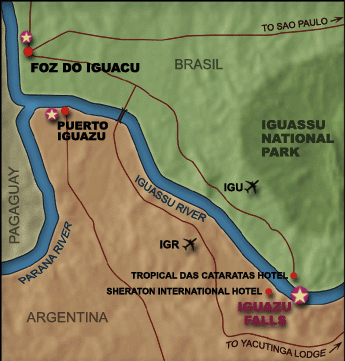 In planning to see the falls, I'd say unless you are Speedy Gonzalez you need a day to see the Brazilian side, and another day to see the Argentinian side of the falls, which by the way has a platform right next to the famous Devil's Throat that offers a spectacular view of the falls.
Over-all, it's a longer day and more views of the falls on the Argentinian side. But I had a better weather day on the Brazilian side. The sun was out and you could see full rainbows right in front of you!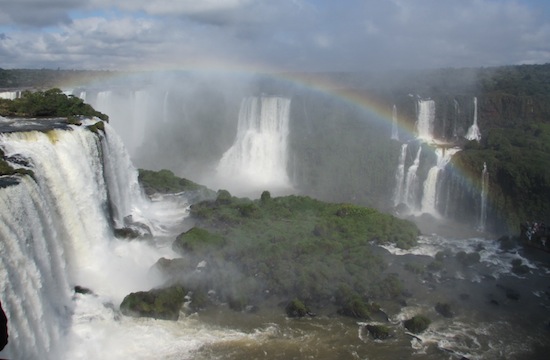 While waterfalls don't really determine liveability, Foz do Iguaçu is actually a city with around 500,000 people. I had no idea it was that big, and didn't stay long enough to get to know the city or sample the nightlife in any way.
So, granted that I didn't stay very long I have a sense that I could never properly live there given that it is:
far from a major airport
cold in winter
very rainy
only 500,000 people
In these respects, it didn't even begin to attract me… Definitely worth a visit to see the falls, though!
Foz do Iguaçu Quick Tips:
1. In Foz do Iguaçu, I stayed at Iguazu Guest House. I think it's good for a 1-or-2 day stop over as it's walking distance from the bus station and close to a churrasceria, a Brazilian steakhouse with all-you-can-eat buffet for 20 reals. ($10)
2. If you have an opportunity to see the waterfalls, definitely go. It's a marvel. To see everything, the Argentinian side takes about 4-5 hours and the Brazilian side maybe 1.5 or 2 hours. The bus stations on both sides have lockers you can rent if you are the backpacker type and need to store your stuff for the day.
Porto Alegre
From Foz, I took a short flight to Porto Alegre which was $80 on Hipmunk, and roughly the price of a bus ticket at 1/12 the time. It was a no brainer to take the plane.
Porto Alegre is known as the home of many Brazilian supermodels, most notedly Gisele Buncheon. So I was eager to lay my eyes on the cities assets.
…. Baaahahahahaaaa.

Anyways, upon arrival I opted for a bus tour of the city so I could get an idea of the layout. During the day, the temperature was pleasant (this in the middle of winter). With the sun shining, it's t-shirt weather.
I got a sense of the layout with the bus tour and went to the outdoor market, spend several hours people watching. From what I had heard about the city, I was expecting the women to be models everywhere I looked. Unfortunately I saw exactly zero model-looking women out during the day in Porto Alegre.
It's possible the good looking women only come out at night to certain select places, or hang out in the malls, but basically I didn't see at all what the hoorah was about.
In Medellin, you sometimes fall in love with your cashier.
In Porto Alegre, not even close.
Nighttime in winter is very cold in Porto Alegre, by the way. It was a real turn off, requiring me to sleep fully clothed and use all the available blankets.
Finally, I went to the river bank, a place which was recommended by numerous locals to go to to watch the sunset. This is what it looks like…
My reaction was… "Really? Are you serious?" I don't know if the Brazilians of Porto Alegre would admit that this river bank is ugly, but a picture is worth a thousand words.
There is a haze over the city, and the area by the lake is very dusty. If they improved it by making it a manicured lanscaped, cleaned out the dirt, got rid of the huge sea-liner boarding ramp, and getting the bums out of there, THEN it could be really attractive. Especially with the sunsets.
But within 24 hours of arriving to Porto Alegre, I decided it there's no way I would live here. Not when the prices are practically twice of what I would pay in Colombia. There's just nothing to attract me.

Now, when I have a larger income, I might return to Porto Alegre in the summer time and stay for a weekend… but in terms of liveability?
No way.
Goodbye Porto Alegre.
Porto Alegre Quick Tips:
1. I stayed at Porto Alegre Eco Hostel and enjoyed it (Mario is a really nice guy, speaks English and will help you with everything).
2. The bus tour was 15 reals and goes all around the city. It's worth it. I recommend you stop at the public market and walk around.
3. If you like historic downtowns, Porto Alegre is a good place to go. It has alot of old buildings and a rich history, including when the people of Rio Grande do Sul (the state wherein lies Porto Alegre) almost got independence from Brazil.
4. The sunset by the river is all right, but definitely not a game changer. If you want to see it, go to the 4th floor of the museum for the best view.
5. Nightlife (as told to me) – Cidade Baixa (R. João Alfredo, Av. Gal Lima e Silva) and Moinhos de Vinto (R. Pe Chagas)
6. Best places to live (as told to me) – a) Centro Historico behind the commercial district b) Bom Fin by the park c) Cidade Baixa (but will need to find a quiet place) d) Moinhos de Vinto (most expensive / upscale)
Florianopolis
All right, Floripa…
Of all the cities in southern Brazil, I'd say this one is the most recommended as the best place to live. Many, many Brazilians I talked to said that if they could choose where to live, it would be Florianopolis.
So, I was eager to check out what all the fuss was about… supposedly gorgeous women, gorgeous beaches, a great life all around.
Well, the first thing I noticed upon arrival was the proper size of this place. When people say "Florianopolis", they are really referring to the entire island of Santa Catarina, which by the way, is a rather large island, and not the easiest to get around.
It was a solid hour and a half to get from the main bus station (upon arrival from Porto Alegre) to Barra da Lagoa, the smaller town where my hostel was. Barra da Lagoa, by the way, was not on the extreme end of the island, only a little ways up. The fact that it took so long was a preview of my coming hours spent in transit while on the island.
Upon arriving to Barra da Lagoa and getting settled into a really good hostel (Barra Beach Club), another glaring reality dawned upon me: there aren't a lot of people on the island during winter.
Properly speaking, I arrived in June, which is the dead middle of the winter. The weather was more rainy and a lot cooler than it was in summer. At night it was cold, but not frigid. I would only need a jacket for going outside.
But apparently, there's this massive exodus that happens after summer is over. At summer's peak, there are around 1 million people on the island. During the winter, that dwindles to 300,000. The small town of Barra da Lagoa, in fact, had bunches of mini-hotels that were completely empty. You could tell it was a vacation destination.
Now, an exodus like this does have some benefits… For example, you could find a 2 bedroom, 1 bath apartment, fully furnished including utilities for $300/month during winter. In summer, the price goes to 5 times that, and goes to 10 times that during New Years or Carnival.
I found out you can live for less than $30 per day during the winter there, if you want to, and you cut corners. For a budget traveler, it can be a welcome break from the higher prices of Brazil.
Also in winter, some of the beaches are closed to surfers and swimmers so that the fisherman can have free reign. Of course, this would be unthinkable in summer, but apparently it's the law in winter. Yep, the law.
The beaches of Florianopolis do look beautiful. If you are a beach lover, you would find yourself right at home, and there are several prime surfing spots around the island.
I wouldn't say the beaches were epic, though. I've seen some beaches in my day, it's not like Floripa is the apex. But yes, they are beautiful.
There's also plenty of beaches to go around. You can go to the extreme south of the island and find lots of empty beaches to enjoy. (But keep in mind the commute time to get there.)
"Florianopolis," then, is more like separate small villages spread over an island than a proper city. I mean, properly speaking, Florianopolis actually is the metropolis downtown, with tall buildings, restaurants, businesses, universities, etc. But the life of "Florianopolis" really is spread over the whole island.
Thus, if you intend to spend some time here, a scooter or a car is a key investment. If you can afford it, it'll save you hours and hours of time every day compared to taking buses.
Taxis are available, but they are much more expensive than say, Colombia. One night going from one town to the next (a 20 minute ride) cost me $14.
Another good option (if you have the funds) would be to purchase a place, preferrably in the north if you like upper-tier living, the prettiest girls, and the poshest clubs. On the other hand, go to Barra da Lagoa or the southern end of the island if all you want is a surfing retreat by the sea.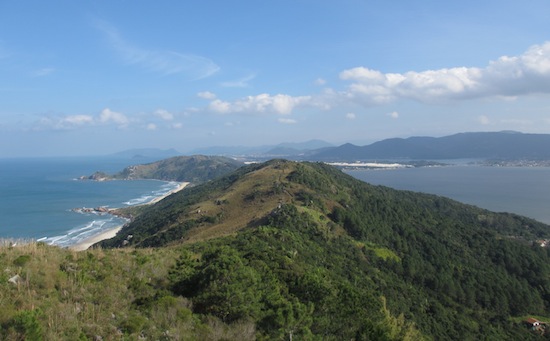 Life in Floripa would be good if you are a baller, i.e. making $5000+ in online and/or passive income. Unless you have significant capital and are either starting a business there (hostel, restaurant, surfboard co, etc) or are buying a place, it's hard to justify staying there.
What about the girls?
From all the talk I was hearing about the girls in Florianopolis, you think I would see a caravan of Victoria's secret models in the bus terminal. But honestly, I'd say the situation was over-rated, especially for the winter time. I went to a bunch of clubs in Lagoa de Conceiçao and didn't see much to write home about.
Basically, you will not see hot girls in the winter unless you go to the malls and the upper-end clubs (read El Divino and Pacha). I liked Pacha a lot. Go there.

As for the summer, rumor has it that the beaches Florianopolis are full of Brazilian hotties out in the sun, but for now that will just be a rumor…
Florianopolis Quick Tips:
1. For nightlife, I'd skip all the clubs in Lagoa de Conceiçao. Go to El Divino, Pacha, or any club in the north around Jurere. But keep in mind you'll be spending $$.
2. If you're on a budget, stay in Barra da Lagoa (I stayed in Barra Beach Club hostel). You can get by on a low budget if you're savvy. Plus, it's a very relaxing place.
3. Rent a car or bike if you have the cash. It will save you hours in terms of bus rides.
4. If you want the full Florianopolis experience, don't go in winter (April to October)… Go in summer (November to March). I will come back in the summer sometime in the future.
Curitiba
Curitiba was another quick stop in this Brazil blitz. I was interested in visiting mainly because it was a major city in the south, a bit inland, with a good size population. I had heard good things about it, that it was a clean(er) city, that its public transportation was efficient. And that the weather was pleasant.
Upon booking my hostel, I realized that the prices weren't going to be appreciably lower than the other cities I had visited thus far. And upon seeing the less-then-optimal neighborhood the hostel was in, I realized Curitiba had only a short time to give me a good impression.
The positives about Curitiba is that is a well-planned area. There's a tour bus that goes around it to all the major attractions, and it gives you a sense of the layout of the city. There are many well-kept parks and museums.
There's also a well-kept shopping district. Very well-kept in fact: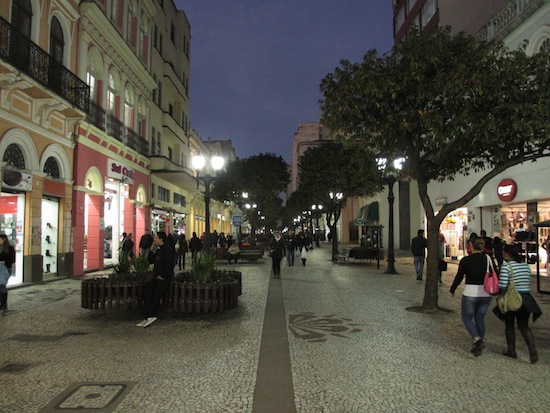 Towards the edges of the city you'll find houses on the hillsides which seem very peaceful. It may be a good place to check out if you've got a family already and you want to buy a house, have a car and a dog, live next to a park and settle down.
Of course, none of this appeals to my lifestyle at this point, and there are many places in the world that have peaceful hillsides and pleasant parks.
Curitiba was built up by a wide-variety of European immigrants. While there are some sketchy neighborhoods, it seemed like there was a special neighborhood dedicated to just about every group that had arrived at some point in the past – Italian, Polish, German, French, Czech. And often there are structures to commemorate different immigrant groups.
The city layout includes a line of repetitive line of condo and apartment buildings which compose its skyline. Nothing special. And it has a number of museums, like this one.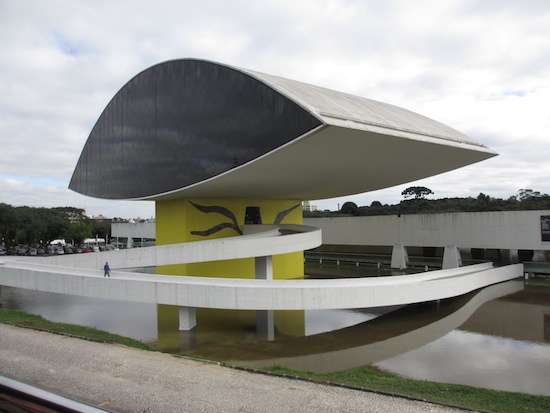 The transportation system was decent (a little over-rated), but crowded. The central "tube" system reminded me a little bit of Bogotá's Transmilenio system.
The winters in Curitiba are cold, commonly down to freezing. When I was there, it got nearly to the freezing point over night. During the day was jacket weather.
Curitiba is not a major airport center, if you want to go somewhere you most likely have to go to São Paulo. I met a number of travelers who were taking buses from Curitiba to São Paulo to catch an international flight.
Curitiba is not located near the beach (you can take a train though, for a day trip). It's sort of in the middle of nowhere.
What about the girls in Curitiba?
Well, the short answer is who the hell knows where they are… I basically saw no better than average talent during the daytime there, even near the main shopping district. Granted, I didn't spend any time in the malls and didn't stick around for the nightlife, but essentially I saw nothing to write about on this.
So overall, I was glad I only stayed 36 hours in the city. I could definitely not see myself living there long term.
Curitiba Quick Tips:
1. I stayed in Curitiba Casa hostel, which is internally a very good hostel (clean, comfortable, wifi, etc.) and walkable from the bus station, but is located in a bad area of town…. Don't be like me and walk there at night!
2. The tour bus is a good idea to get a feel for the layout of the city. It stops at all the major tourist attractions.
3. In the central park near the shopping district, there are chocolate covered strawberries. Eat them.
4. I have no idea why people would want to live here, except if you found an Isabeli Montana to settle down with.
São Paulo
When I think of São Paulo, one question comes to my mind: do you like New York City?
If you do, you might like São Paulo.
It's an endless horizon of skyscrapers as far as the eye can see. Concrete everywhere. Hours of your precious time spent on the metro system or sitting in traffic.
High-end shopping. High-end finances. High-end clubs.
Doinky, bland little salami and cheese sandwiches that cost you $10. It's all here.
Actually São Paulo shouldn't be thought of as a city. Properly speaking, it's a world, a place so massive you could spend years and years and not get to know half of it.
The other side to that, of course, is that there are so many niches and micro-niches in Sao Paulo due to its sheer size that, whoever you are and whatever you do, you can eventually find like-minded folks somewhere in the city.
What about the cost?
Some people think Sao Paulo is expensive. And it is… you can stay in hotels which cost thousands of reals per night. Apartments cost $2000 a month in the better areas, minimum.
But Sao Paulo is a 'world', remember? So guess what…? I actually saw a hotel just outside of the city for 30 reals ($15) a night. Yes, it looked like a shack, but still… it depends on what you're willing to live with.
Speaking of living with stuff, let me just say outright that it will take you 2 hours to get anywhere in this freakin' city. I have never been in a city which took so much time each day to get from one place to another. Many Paulistas spend 4 hours in commuting time each day. And it's just a normal part of life. I would never want to do this.
So if I were going to live here (which is not likely in the near future), I'd organize my life around convenient metro stops (place of work, home, gym, grocery, etc.). That way I wouldn't spend so much of my life in transportation systems.
And if I stayed long enough, I might be able to figure all this out, but the higher costs of living make this prohibitive.
Honestly, I didn't think the city was very beautiful as a whole. As I said, it's a never-ending sea of skyscrapers in all directions. There isn't even a recognizable skyline… it's all skyline! But it does have some decent parts:
The temperatures there in the middle of winter were chilly but bearable. During the day I wore short sleeves. At night I wore long sleeves and a jacket.
On a positive note, the girls seemed very approachable. You'll find a good number of girls in São Paulo that speak English and are very internationalized. This can make it a little easier to chat up a cute Brasiliera if your Portuguese skills are lacking. In terms of the 'talent', though, I didn't see enough put São Paulo high on the list.
On a random note, there don't seem to be any regulations against firecrackers here because people fire them off at all hours before and after soccer games. The fans that love the Corinthians fire them off in excitement and anticipation and the fans that hate the Corinthians fire them off in reprisal. (The first time this happened I thought there was a gang war going on outside my window.)
Overall, it was great to visit São Paulo, which is considered the financial hub of South America. If you are an absolute baller and are interested in heavy-hitting finance or big business, you've got to consider exploring São Paulo. My lifestyle is a sensible but lively bootstrapper, and thus I couldn't justify staying in São Paulo at this point in time. As a result, I only stayed 4 days.
I also detested the transit time and the amount of traffic there is absolutely everywhere. With all of the tall buildings blocking the sky, it felt a little bit claustrophobic. On top of this, there was not one area of the city I visited that really resonated with me, a place I really liked. It felt like one never-ending downtown.
São Paulo is (understandably) a very business-oriented, fast-paced city. People are very much into their careers, and the busyness that characterizes such a major metropolis. It seemed like many Paulistanos are focused on climbing the corporate ladder, doing business on their smartphone as they walk through downtown, and hurrying off to their next meetings, etc. This type of atmosphere doesn't appeal to me.
Thus, even if I were a baller, making shiploads of money, I most likely wouldn't live in São Paulo for a long period of time.
This world is not for me.
São Paulo Quick Tips:
1. The Bank of Santander is a tower that has a look out view of the whole city. It was free when I went. It offers really great views.
2. Try to meet a Paulistano friend to show you around Sao Paulo and get you oriented. I would have been hopelessly lost if I didn't have one.
4. São Paulo has the largest fleet of private helicopters of any city in the world. No joke. The rich don't want to wait in traffic.
Paraty
I made a brief stop in Paraty, Brazil due to recommendations of some people I met in my travels. I really didn't consider that I'd live there for a long period of time, but was interested to check out a little spot on the backpacker trail.
It really was a good stop because it is about half way in between São Paulo and Rio. It's also a very relaxed place, and a good place to chill out for awhile before jumping back into a big city.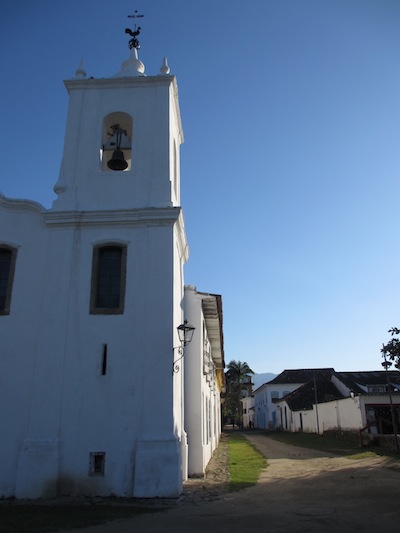 Paraty is actually a World Heritage site that's been preserved for hundreds of years. The historic downtown is easily walkable and lined with old buildings from times past. It reminded me a little bit of Cartagena, Colombia.
You even have to watch your step on the old cobblestone streets, as you might trip over yourself (like I did).
Paraty's also on the southern coast of Brazil, with a number of beaches within a short walk or bike ride. I spent the afternoon having lunch in the shade on a practically empty beach, with the wind gently blowing and the sweet sound of Brazilian coastal music in the background. It was awesome.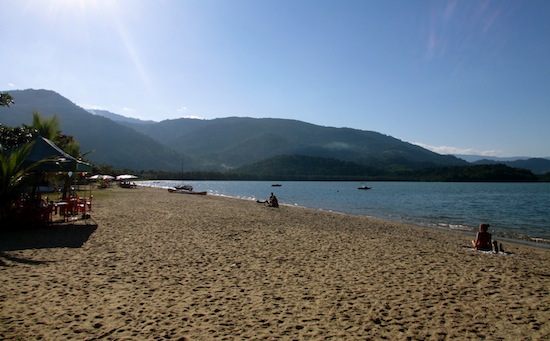 There's a lot to do in Paraty, including a number of day trips. You can see waterfalls, go kayaking, visit small islands, go horsebackriding, see wildlife, or go fishing.
Brazil's largest book fair was behind held in Paraty the upcoming weekend when I was there. And the central park had a few figures on display…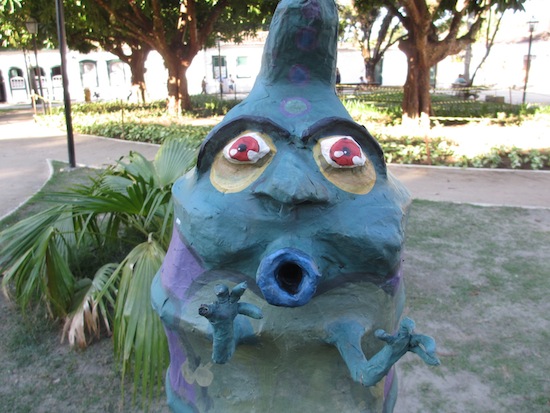 During the book fair, prices for dorm rooms triple, so I had to leave Paraty a little earlier than I wanted.
I met zero Brazilian girls in Paraty. Zero. I might have seen maybe 1 or 2 attractive ones in the town. Met a ton of Europeans in the hostel, though.
In summary, if I'm in Brazil and want to take a vacation, I'd definitely return to Paraty. It was one of the most relaxing places I've stayed at in Brazil.
Paraty Quick Tips
1. I stayed in Che Lagarto hostel. It was great– good location, walkable from the bus station, good atmosphere, friendly people and staff. It had live music each night, so it's not good if you want quiet or want to get work done, though. They also have a private bus service to any hostel in Rio, which was worth it.
2. The place I had lunch at was a 20-minute walk over the hill to the adjacent beach. Can't remember what it's called, but its super chill. I highly recommend it if you want to relax.
3. I met a cute blonde Russian girl near the church pictured above, who was leaving that day, and I didn't have anything to take her info, and her name was impossible to spell… Russian girl, where are you? lol

Rio de Janeiro
Ahhhh yes…. Rio.
The city of Rio de Janeiro is the most beautiful cityscape at sunset I think I've ever seen.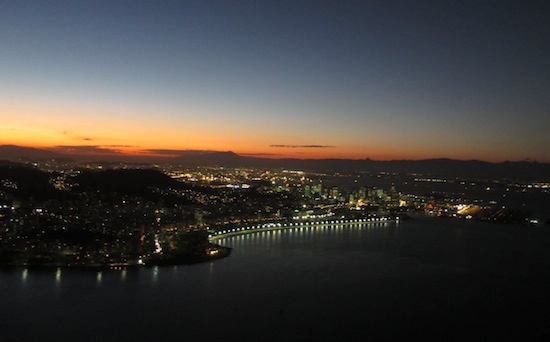 And this is the type of beauty you get to see every night. At certain times, the sky literally turns orange. It is amazing.
And that's not even touching the beautiful beaches and mountains you see during the day time…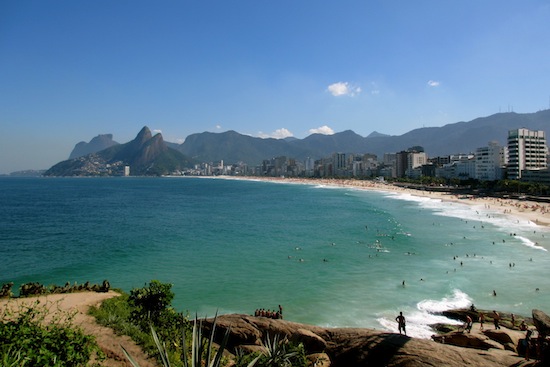 Rio is just so darn beautiful.
Some areas are run down, yes. But just hanging out on the beach you begin to get the feeling of total relaxation, absorbing the rays, and all of the incredible beauty you see around you.
By the way, I saw more attractive girls in Rio than any other city during the day. Clear cut, no contest. Just hang around Ipanema and Leblon (yes, the more expensive areas), and you will see what I am talking about. A ton of them have lunch within a few blocks of the beach.
The weather in winter (July) was really good, albeit a little rainy. I'm not sure I could stand the summer heat, that they say routinely reaches 40 degrees Celsius (100+ Farenheit).
Along the beaches, it felt like people were very interested in showing off their fit bodies, especially since the sand has extended running paths right alongside them, as well as small workout stations where you can do pushups and pullups. Walking down Ipanema and Leblon, you see hordes of shirtless men working out, running, and playing volleyball.
But, as long as we're talking about the beach, I once heard Rio as a city so over-hyped it is impossible not to be a little bit underwhelmed. While I didn't feel underwhelmed, but I was not singing the praises of Copacabana, which to me seemed a bit dirty and worn-down.
What about the costs?
Rio was definitely expensive. Even in winter I was paying $20 for a dorm bed, and lunches started at $10 or more. I understand that in summer the prices can double.
But having said this, I feel like if I stayed there for awhile I could get my costs down. For example, in the Botafogo neighborhood, I saw places to live advertised for $400/ month and a gym for $50 a month. Not bad. Plus Botafogo is close to everything — the metro, the beaches, Lapa.
On the other hand, if you stay in Ipanema or Leblon, you're definitely going to be paying higher prices unless you know someone and have an inside scoop.
One thing I could not fathom whatsoever was the laundry prices of Rio de Janeiro. Laundry was ridiculously expensive… $4 for 30 minutes with a dryer!!! No thank you.
What about the nightlife?
All I gotta say about nightlife in Rio: whoa.
I wrote a post a little while ago about how impressive Lapa was, with it's 10,000 people on a normal Friday night.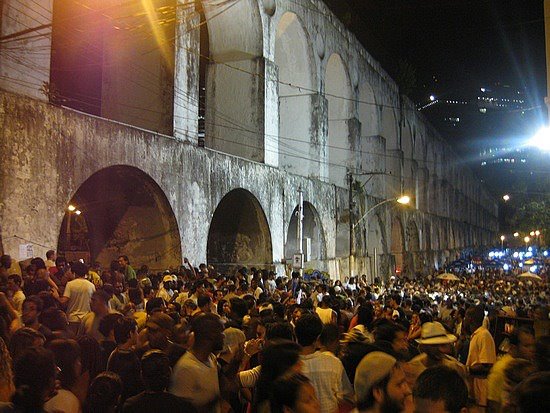 It's the kind of place where everyone is going so hard. Unlike in Colombia, where clubs often close at 2 or 3 am, it's common to stay out until 5 or 6 am in Brazil. Later than that if you can keep going.
And you have to watch out for opportunists. One guy who was with us in Lapa almost had his iPhone stolen by a girl who was dancing/ grinding on him in the street. He caught her with her hand in his pocket.
There is literally potential to go out every night in Rio. There is always something going on, and you could actually do nothing else with your life except go out, if that's what you wanted.
In fact, I met one American expat who told me the reason he left Rio de Janeiro because he literally got sucked into the partying scene and said he would have died if he didn't get out. It is just that enticing.
Plus, hooking up is like a national sport in Brazil, but especially in Rio. At night, absolutely everyone will be pairing up and making out. The atmosphere is definitely not as cliquish as nights out in Colombia. Everybody just mixes together and hooks up. So you gotta make your move before some other guy swoops in on your target!

Also, while I was there in Rio, the UFC fight between Anderson Silva (Brazil) and Chael Sonnen (USA) was watched by absolutely everybody in Rio. Apparently the USA guy had dissed Brazil in some way. But when the fight finally happened, Silva dominated him, ending it in round 2. Everywhere in Rio went absolutely nuts.
To me, this is a good picture of the atmosphere around Rio. In Rio there is just so much raw energy everywhere. The Carioca life is just so confident and full of energy, that you feel it almost when you arrive. The men know they're men, the women know they're women. They know why they go out. They know how to party. They just go at it so hard.
There is so much passion and raw energy around everything, I have absolutely no idea how the World Cup in 2014 will be kept under control. By anyone or any army.
What about the crime?
Crime is a problem in Rio. I myself saw a robbery and a police chase the first day on Ipanema Beach. Many people I talked to had been robbed, some violently assaulted. There is heavy crime in some favelas due to gang violence.
I did hear from a Brazilian that a few weeks prior to my arrival, the military had been dispatched into one of the most crime-ridden favelas and they took out the ruling gang by force. Literally the military had invaded the favela, taken out the gang, and now the favela was safe to walk through. The Brazilian told me that the authorities are doing this to make the city safer for the large events of the World Cup 2014 and Olympics 2016.
Crime is a part of life in Rio, as it is in many parts of Brazil. If you want to live there, you just have to deal with it. (I wasn't terribly bothered about it due to the measures that I take to reduce my theft exposure.)
Overall, I liked Rio. A lot. It was a dream for me to finally make it there. If I can attain a certain level of income, I would venture back there, despite the high cost. It's just such a unique city, no wonder it's on everybody's list.
Rio de Janeiro Quick Tips:
1. I liked the Lemon Spirit hostel in Leblon, and later liked the Stand Fast Hostel in Botafogo even better (at 1/2 the price).
2. Definitely go to Lapa on a Friday night.
3. They have tours to see the Christ Statue, Art Gallery, Lapa stairs, and Sugar Loaf all in one day. It's worth it.
4. If anyone wants to start a hostel in Rio, let me know. I would come down and help you out with it, even build your website and market it. For real.

Belo Horizonte
Now we come to Belo Horizonte (BH). BH is the principal city of the state of Minais Gerais. It's about an 8-hour bus ride up from Rio, and would be my final stop on the Brazil blitz.
As I've tried to explain before, I don't really like the act of traveling, and so I skipped going to Vitoria because there weren't any hostels and none of my couchsurfing requests got through in time. I decided to forge ahead, more or less directly north to BH.
I arrived to a hostel near the Savassi neighborhood, which was supposed to be the best neighborhood in the city. But there were two problems I had upon arrival.
The first problem was that this hostel (Hostel Taiua) was just a small house with some beds in it, without any signs of being a hostel (only 2 other people, no brochures or maps, no signs, etc) and did not do a good job at all of orienting me to where I was. The other problem was that, as I found out, the neighborhoods near Savassi aren't as nice as Savassi itself. In fact, the neighborhood I was in was 3 blocks from a run-down favela.
On top of this, I didn't know a soul in Belo Horizonte and I had been lagging behind with my Portuguese.
So my 2 weeks or so in BH were a combination of stops and starts, of walking around on my own, trying to find out where things were, eating at the same lunch buffet every day, getting annoyed because it felt like I needed a car, and not getting on buses because I had no idea where they would take me.
Belo Horizonte was the one Brazilian city in which I took zero pictures. Zero. I felt like there was little worth taking a picture of. So here's one from I got from Wikipedia: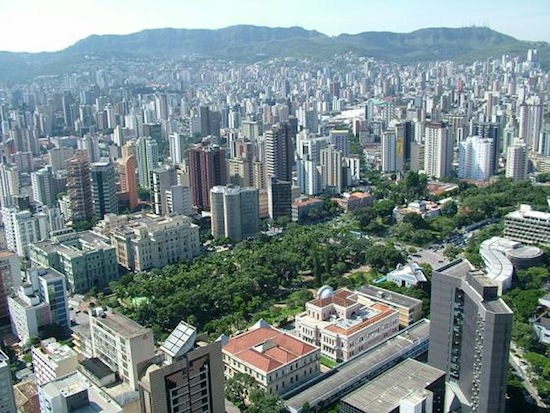 As you might be able to tell, Belo felt like one giant, sprawling downtown. Lots of concrete and tall buildings. I didn't see much in the way of landscapes or beautiful spots in the city. I went to the park in the south, but all I found were rusted scuptures and a boring, brick car path.
However, I will say the weather was perfect during the day. Absolutely perfect (i.e. in winter).
Because I didn't know the bus system and didn't speak good Portuguese, the city seemed to be difficult to get around, and taxis were expensive (at least compared to Colombia), at $10-$15 a pop.
What about the nightlife and girls?
Nightlife in Belo Horizonte is interesting. The people of BH seem to love rock music, I mean love it. There are so many rock bars it's insane. (I'm not that much into rock, especially when it makes it too hard to talk… nothing is accomplished.)
So several nights in a row I ended up in rock bars playing American music. Not exactly the night in Brazil I was hoping for…
As for the girls, during the day I saw some cute girls in the malls, but I definitely didn't fall in love with any cashiers or waitresses.
Final word?
I would say BH is good for winter time in Brazil because of the excellent weather. I may return here in the future when I know more Portuguese for longer recon.
Belo Horizonte Quick Tips
1. Don't stay in Hostel Taiua. It's within walking distance of Savassi, but it's just not ideal at all. Stay in La em Casa in Santa Teresa. The owner there is much sweeter and more helpful.
2. Be prepared to spend $ if you want a good time at night + taxis. One night out going to the far south of BH, I spent $35 on taxi, and $75 in minimum getting into a club.
3. Try to connect with the guys from Real Life English. They are English speaking expats based in BH.
The Importance of Portuguese
I should mention something here about the importance of Portuguese. Initially, I had remarkable success my practical hacking Portuguese plan (a plan I will continue with on future trips to Brazil), and was able to read it after just one week of study. But, I slacked off the last 4 weeks I was in Brazil once I realized I was going to leave. Those 4 weeks I learned very little.
Knowing the language is like the lifeline to getting a foothold in a city. You've got to be able to communicate with people to get things done, including store clerks, taxi drivers, waitresses, bartenders, officials, and strangers, not to mention girls. There's just no way around it if you are going to get the best out of Brazil.
Yes, there are some people who speak English in the larger metropolises like São Paulo and Rio, but it is just not the same experience not knowing the language. I feel like I missed out on a lot because I hadn't learned the language well enough. (And, in places like Belo Horizonte, as a solo traveler I would have been completely lost if I didn't know the few words that I did know.)
So, the next time I plan to go to Brazil, at the top of the list will be to persevere and learn Portuguese… this time no excuses.
Concluding Thoughts
Whew! As you can tell, this was not intended to be an exhaustive account of each city. Rather, I was trying to share with you of my impressions of each city as it pertains to my goals of finding cities I would like to live in for awhile.
Having said that, it was an absolute dream just to be able to visit Brazil. It had been on my 'bucket list' for many years, and I finally did it this year. And let me just say that there is no way you will regret going to Brazil if you decide to go. It should be on your bucket list if it isn't already.
For those of you interested in living costs, I wrote a post earlier about what kinds of expenses I would budget for if I decided to live in Brazil according to my sensible bootstrapper lifestyle and it came out to around $1800.
That's about 2x what it takes to live a similar lifestyle in Colombia. And it's a big reason I won't be going back to Brazil for now…
But the question is, when I go back to Brazil (not 'if'), which city would I go for?
Well, I would make sure to go in the summer and come up from the south (maybe through Uruguay). I'd do a re-check of Porto Alegre and Florianopolis (mainly for girls and nightlife to see if it's any different in the summer vs winter)…
Then I would head up to Rio de Janeiro to live.
Rio just captured my heart. For me, it is clear cut that I would live there before anywhere else in southern Brazil. It is just such an amazing place, and the vibe there is incredible.
I am thankful for the opportunity I had to travel through Brazil and will be back soon enough… Viva Brasil!
–
P.S. Reminder: this post is published to celebrate my two year blogging anniversary… If you like it please share it with friends! Thanks / Gracias / Obrigado.