I visited Santa Marta during my coastal stretch of my first trip to Colombia, and the first thing you will notice in Santa Marta is the heat. It's really hot along the Caribbean coast in Colombia… It's hot in Cartagena. No surprise, then, it's hot in Santa Marta… So plan on sweat and lots of it.
Santa Marta, though, given it's proximity to the mountains, tended to have a cloud cover which made the sun not as brutal as in other coastal spots– you were not likely to melt into a puddle like in Cartagena– and there were steady breezes blowing through the day. This made the temperature really nice at night.
Santa Marta The City
But the other thing I noticed when I got there was how much trash there was in the streets. It's just not something you can avoid seeing if you are in the middle of the city. I'm not sure what the deal is. I mentioned it to some people who live in Santa Marta, and they didn't seem to think it was that big of a deal.
Apparently, the trash service comes once a day, but leaves behind scraps in the street. The people get lazy and don't pick up the trash around their own buildings and stores, and it's a snowball effect. Since few people make the effort to keep the streets and sidewalks clean, other people follow suit because everyone else does.
Santa Marta is a port city, and thus has large cargo ships coming in day and night. Unfortunately, the placent of their port meant that their beach is not all that stunning.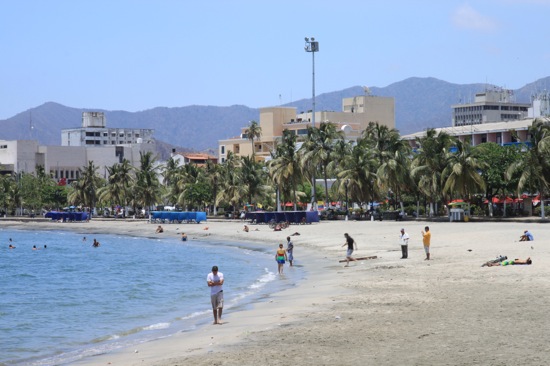 It's been landscaped a little bit the past few years and has a walkway running parallel up the beach. But it's not that impressive. In fact, right here is about how big the beach is. It's not much bigger than this. (And also here's researching tip: If you do an image search for Santa Marta, you will be shown a lot of images from surrounding beaches… NOT from Santa Marta specifically. The beaches surrounding Santa Marta are much better for photos.)
Staying In Santa Marta
Check out La Brisa Loca hostel for a really good location downtown. It's a social hostel with a great feel, but it can get hot inside, so make sure you get an air conditioned room if available… Very much worth the extra 2 bucks. Downsides: The wi-fi connection is very poor, and you have to take your laptop and/or tablet downstairs near the front desk to connect. There is also not a good place to sit down and get work done. (Not that there typically is one in a hostel!)
Near downtown check out Lulo cafe. Just ask around and people will know where it is. They make great smoothies and gourmet arepas (and are reasonably cheap).
The actual downtown of Santa Marta has a few cool areas, like Parque de los Novios (Park of the Sweethearts), where there are some restaurants and bars situated around a peaceful park area. But other areas were very dangerous according to the natives. At one point in trying to get back to my hostel, I found myself in a really run-down part of the city, about mile east of downtown. Honestly, I didn't feel very safe at all, and felt I might be mugged at any time (I smiled, though, because I knew I was having a 3rd world experience!).
I was only in Santa Marta for a week, and as in Cartagena, I got to hang out with only few actual Colombians. This is one lesson I learned after spending time abroad… If you stay in hostels, you tend to hang out with Gringos. This means less exposure to the actual culture and people of a place.
The Colombian people are always vivacious, though, and are frequently out expressing themselves. One night we were downtown, there was a fashion and dance show being put on by kids, around ages 7-17. It was cool to have a community gathering like that right in the middle of the downtown square, with live music to boot. Be on the lookout for cool stuff like that.
Parque Tayrona
Northeast of Santa Marta, you will find Parque Tayrona, a national park, which extends along the coastline. The research I did prior to the trip suggested that Parque Tayrona was a can't-miss.
The path that a few Gringos and I took was a 2 hour hike inland through some small mountains and along the coastline.
At one part along the beach, we came upon this salt water crocodile, about 20 feet from us and looking pretty happy.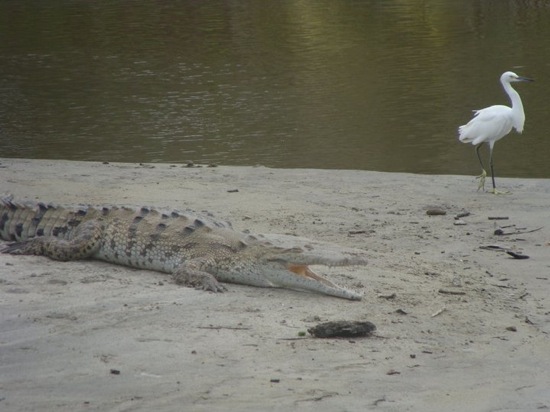 The hike was a pretty good one, but it was very hot, and that made for a lot of sweat. If you like things hot and sweaty, you will love hiking in Parque Tayrona.
At last we came to one of the better known tourist spots, a place called Cabo San Juan, one of the beaches in Parque Tayrona. It was where we spent the night… It is very much like camping. There was one outpost to eat at, and a place to buy drinks, but that was it.
The actual beach was pleasant. The water temperature was absolutely perfect, and felt so good to get in after a long hike. The boulders coming into the sea were also pretty cool.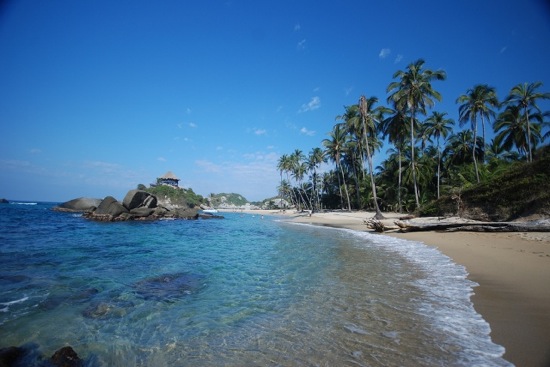 TIP: If you make it there, do everything you can to get a hammock out on top of the rock hill overlooking the ocean (the hut middle-left in the pic above). All the other accommodations are tents on the ground, which are VERY uncomfortable.
Coming from Florida, though, and having visited Hawaii and the Caribbean, I have seen my share of beaches, and honestly this beach experience was not quite top-tier (in my opinion). The water and rocks are beautiful, and the hike is unique, but given the over-crowded accommodations, for me it was good for a one night stay, no more. It might have been better a few years ago when it was less discovered, but the price of park entrance, food, and accommodation have gone up the past few years as it has become a tourist destination.
El Rodadero
To the west of Santa Marta, there is a small town called El Rodadero. Tell you what, there are some awesome sunsets there. There's a restaurant halfway up a mountain which goes straight into the ocean. It's a really picturesque spot, although a little pricey for food.
You get to El Rodadero by taking a 10-15 minute taxi up and around the south / southwest part of Santa Marta, and it is a place filled in with condos and really nice boats. I had never heard of it before going there, but apparently it's a great place to hang out if you are weathly.
We ended up having a great meal (decently priced) down on the main road in El Rodadero, and the beach was much nicer than Santa Marta proper. I think I would like to spend a little more time here if I come back.
Other Surrounding Places
Around Santa Marta, there is a small coastal town called Taganga, and also a hike called the Lost City Trek, a 5 day trip to the ruins of a remote ancient city, deep in the mountains. I didn't do either of these this time around, but probably will hit them up if I come back.
Santa Marta is also a great launching pad if you want to go to La Guajira, a long stretch of desert coastland that stretches to the Venezuelan border. There are also some native South American tribes in the regions surrounding Santa Marta. If you are interested in seeing things like that, Santa Marta is a good place to start.
Conclusion
Perhaps I would visit Santa Marta again. But next time, I would hang out in El Rodadero and other surrounding areas, and spend less time in the city proper. And I would definitely make sure to live with some costeños!