I just finished reading an entire book in Spanish, and I've got to tell you it was a really good hack to improve my vocabulary and reading skills.
It was such a good exercise I am already planning on reading another one, possibly in another language I might be picking up again in the near future.
What the hack is
The idea is simple: buy a book that you can write in (although I suppose you could do this on the latest Kindle versions), then read the book all the way through, writing the definitions of unfamiliar words and phrases above the given words.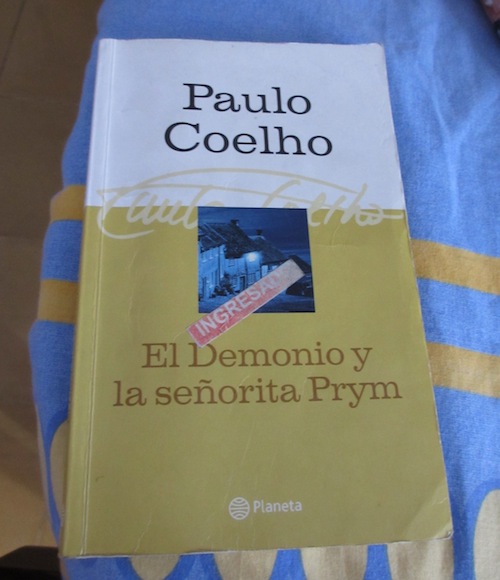 Initially, you will be looking up a lot of words, depending on your level. But by the end of the book, you will find yourself marking FAR fewer words than you did in the beginning, and your reading skills will have improved significantly.
Plus, if you carry the book around with you, you will always have an easy conversation starter, and you can perhaps ask a cute girl nearby what a certain word means. 😉
When you should use this hack
This hack is NOT for beginners in a language. If you're just starting out, you will be spending the majority of your time looking up words and trying to decipher the structure of the sentences. It is a recipe for becoming overwhelmed and frustrated.
There is a way to a way to learn Spanish fast (or any language, really), but it involves applying learning modalities at different stages of the process. In the early stages, for example, it's best to focus on speaking as often as possible, and leaving activities like reading and writing largely to the side.
If you start with reading a book like this, it will go wayyyyy too slow because you won't have enough of a command of the language to make it move along. Instead, use the book hack when you are at an upper intermediate level or beyond in the language. Once you've got some skills under your belt, your reading will go much faster and will be much more enjoyable.
Characteristics of the book you could choose:
1. Something that would be interesting to you
One of the reasons I picked a book by Paulo Coelho because I had read another book of his (The Alchemist) in English a few years back and thought it was interesting. I figured he was a good storyteller, so when I saw it in the Colombian bookstore, I was keen to pick it up.
2. An author that is known worldwide (so the book is in multiple languages and easy to find)
Not only is Paulo Coehlo a good storyteller, but he happens to be known worldwide, and his books have been translated into many different languages. This gives me the space to continue to read his books in different languages, whether Spanish, Portuguese (he is Brazilian after all!) or some other language.
It also gives me the flexibility to down the road, read the SAME book in another language (Portuguese, Russian, Chinese, etc).  In my long-term goal of becoming a polyglot, I've heard that reading the same book in 2 different foreign languages actually helps you keep the languages distinct in your mind.
3. A relatively short book
Unless you are a bookworm, I would suggest a rather short book, no more than around 150 or 200 pages. The reason for this is that you don't want to get bogged down on a mountain that's too hard to climb. Since it will take you a good bit of time to look up the words, you don't want the book to be so massive that it takes years to read.
Besides, almost all of the big books (say 350+ pages) that I've started, I haven't finished. What makes me think that a another big book that I am reading MUCH slower will somehow get finished? I'm much less of a bookworm these days anyway. 😉
4. A relatively cheap book you can make notes in
Another reason I picked up the Paulo Coehlo book was because it was cheap. Most of the other books in the particular bookstore I was in were $15 dollars or more. This small paperback book was only $5. This makes me more willing to mark it up with my pens and pencils.
Plus, you'll be taking it with you, so it will get scuffed up, and perhaps a drink spilled on it. You don't want to do a major book investment here.
How you can get the most out of this hack
1. Use smart phone dictionary to look up words.
It is SUCH a hassle carrying a big fat dictionary around. Luckily, we are now in the age of smartphones, and you can download dictionaries for most of the major languages of the world. I don't carry and iPhone, but I do have an iPod Touch that I carry around with me when I take my book out.
For Spanish learners, I used the free dictionary app by SpanishDict. It's really easy to use, and has an autocomplete feature where you only have to type in the first few letters of the word. It doesn't have all the phrases or idioms in it, though, so you might need to hit up WordReference.com every now and then.
2. Write meanings of words (phrases) above the unknown word (or phrase)
I've found it best to write the meaning of the unknown word or phrase directly above the printed words. It takes additional 'eye' time to shift over to the margins and read the definitions. Plus, you want to save the margins for extra notes you might have.
I also underline the unknown word so it pops out visually.
3. Talk to native speakers if you need help.
Most dictionaries won't have every construction you're looking for, and so this gives a great opportunity to chat up the natives!
So if you're on the ground in a country, you could simply walk up and start a conversation with people in the mall, or library, or park, or wherever you find yourself. "Hola, puedo preguntarte algo de español?"
If you're not in the particular country, connect with somebody through Livemocha or iTalki. These are free language exchange sites, and great for making friends thousands of miles away.
4. After you finish marking the book, re-read it from cover to cover.
Once you've done the hard work of looking up unknown words and marking them down, your eyes will begin to recognize the vocabulary, including specialized vocabulary used in the book. This means that a second time through the book will go about 100 times faster.
So you can read enjoyably, and not so laboriously. 🙂
In Summary
The book hack is a really excellent way to continue your language learning studies, no matter where you are in the world. It also provides excellent fodder for Skype conversations with the folks you meet over Livemocha, iTalki, or any other language exchange you are a part of.
Remember, probably not a good idea to do this in the beginning of learning the language. It's too inefficient of an approach.
But when you're moving into upper-intermediate levels, I've found it to be a great way to help you learn.