One of my Colombian buddies told me that I should go to the Clasico game at least once while I was in Medellin.
The match pits Deportivo Independiente Medellin versus Atlético Nacional, and intra-city matchup with the two most well-known soccer team.
To say it's a fierce rivalry is an understatement.
After each game, it is not uncommon to have a few people killed, and several others injured in the fighting that ensues. Nothing less than armed forces are deployed for this game, including a crowd-control vehicle resembling an army tank: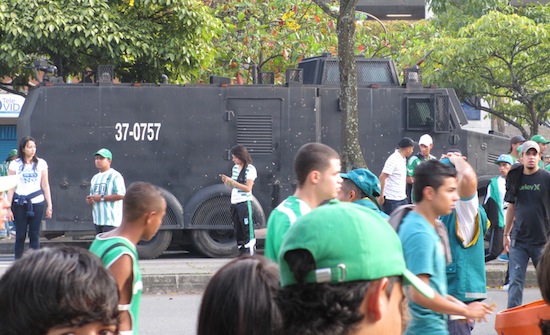 This is apparently used to shoot water at high velocity at crowds, causing them to disperse.
The crowd-control officers also utilize stun grenades, which as I understand it are grenades that send a shockwave so powerful you can't move.
The standard tear-gas is also utilized to get people moving.
This, of course, is not to mention the cops on horseback who might just chase you down and beat you with a night stick.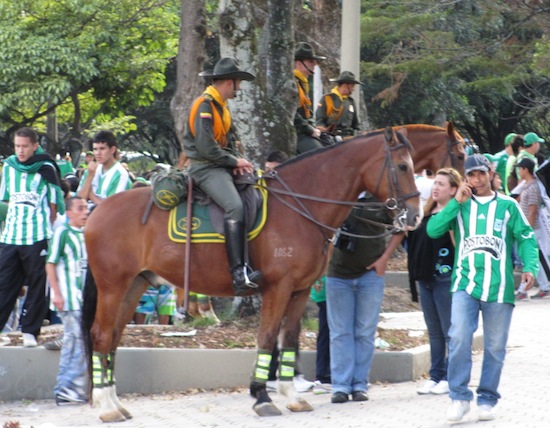 One local told me that the area surrounding the stadium after the Clasico game is 'the most dangerous spot in Medellin,' due to the volatile atmosphere.
Thus, we needed to make our exit promptly after the game.
—
But first, we enjoyed the game from the Nacional section, a spot where fans (principally younger people) stand and chant for 3 hours straight.
I'm not joking. Nacional has a band and drummers that play non-stop through the entire match, as well as an hour leading up to the match. All the fans chant and singwith them. Non-stop.
Sometimes I felt the fans come to the game first to chant and sing, and secondly to watch some soccer.
When a goal is scored, the Nacional fans rush to the front of the bleachers in a flurry of emotion, not caring if they trample or topple you in the process. It is absolute pandemonium.
Unfortunately, I didn't get a goal on camera and Nacional ended up losing this game, 2-1.
Right after the game, being the good gringo fans that we were, we exited the stadium without delay and walked down the far end of Carrera 70 to grab something to eat.
It's good thing we did because my Colombian buddy showed up about 15 minutes later with bloodshot eyes. He told us that the area just outside the stadium (where we'd been) in had broken out in a riot and the police had thrown stun grenades and gas into the crowds.
The next day we learned that 1 person was killed, 4 injured, 350 weapons confiscated, and 450 people detained by police.
Ah, a normal Clasico game.