As many of you know, I only recently started my blog in lieu of my upcoming trip abroad to Colombia and my acquisition of Spanish.
In the past month or so, I have come across some other blogs in the adventure / travel / lifestyle design space that have really encouraged me, not only because of their great content, but also because they are young– roughly 6 months old or younger.
After seeing what they have done in 6 months, I have really become excited about keeping up with what their doing, and learning from them how to make this blog totally awesome.
So, without further ado, here are "The Young and The Restless" blogs you should know about:
---

Matt over at 1 Year Sabbatical is chronicling how his family prepares for and subsequently goes on a one year sabbatical to Indonesia and other areas in the Pacific. It is an ambitious undertaking, especially for a man with a wife and 2 kids! It's great to hear the story of how he is going for it.
Check out his blog posts Love Conquers Fear, which describes an earlier, life-altering journey overseas, and How Our Kids Got Dual Citizenship, which talks about the difference between ius sanguinis and ius soli principles of citizenship, and how it currently affects their family. Also, if you happen to be hesitant to take time off work, or have trouble asserting yourself with your boss, check out I would like to vs. I am going to. It just might be the kick in the pants you've been needing.
I really like Matt's blog because it is always thorough and well thought-out. And you can be sure that if he leaves you a comment, it will likewise be thorough and well thought-out.
---

Mary has a really cool blog over at World Curious Traveler. She has traveled extensively and now finds herself in Okinawa, Japan, as a writer and tour guide. In her writing, she includes some really good tips on traveling and getting the most out of your ventures.
I particularly like the photography Mary does, like her post on Delicious Tahitian Food. If you want to know what the food looks like in Tahiti, check it out. Also, check out her awesome pictures of the Aurora Borealis and incredible ice sculptures from Alaska.
Mary also participated in the World's Largest Tug of War, with a mass of rope bigger than a brontosaurus… Wow!
---

Joel began a great thing over at Blog of Impossible Things a little over 6 months ago. In that short period of time, he has written some really awesome stuff on attempting impossible things (including his very own Impossible List) and living an extraordinary life.
Check out his epic 3,000 word post on when to give up… It's chock full of really good advice on walking away from something when you need to. I also really like his recent post on the things he has learned from 6 months of blogging, as well as his rapid-fire, get-up-and-go quotes to inspire you to do the impossible.
Oh, and have you seen the video of him doing 200 squats? My legs hurt just watching him.
---

Just call him Audacious Lach… Lach over at The Art of Audacity only officially launched his blog recently, but he has created some really smashing content.
His Awesome List is totally smokin'. I really like framing activities around conquering fear… He does it again in a riveting post, Fear Smashing 101. And in another awesome post he points to Michael Jordan missing over 900 shots in his career to underscore the fact that Failure Means Nothing.
Lach has also done a really good job on his site's design. So if you like edge, inspiration, and fear smashing, tune into the Art of Audacity.
---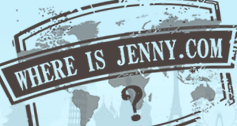 OK, so Jenny has been around much longer than 6 months (WhereisJenny.com), but I include her here because she rebranded her blog in August (re-branding is like a rebirth in my mind)… Tell me, have you ever seen this cartoon character? –>
I don't know about you, but I have seen it everywhere. It seems like every time I go to comment on a blog or sign into Twitter, Jenny's attractive skateboarder is right there looking back at me with those big blue eyes.
When I asked Jenny about it, she told me she had re-branded her blog earlier this summer, utilizing the design skills of a friend to come up with the distinctive persona. I think it was a really creative move, and certainly makes Jenny stick in my mind! (Her blog is really well-designed itself, covering Jenny's attempt at selling everything to travel indefinitely and some really awesome travel tips such as her recent post on keeping your laptop & camera safe while travelling.)
Way to go Jenny!
---
So there you have it, these are the emerging adventure & lifestyle design blogs you should know about. If you haven't seen them yet, be sure to check them out!