Last night I watched the Packers beat the Steelers in a sports bar in midtown Bogotá.
I can tell you that it was a lot of fun and everyone in the bar had a lot of fun. The TVs were all tuned in to Fox Sports Latin America, with the commentary completely in Spanish and without all of the multi-million dollar commercials you probably saw if you watched the game in America.
What I thought was interesting was the things I could learn from the Super Bowl in another culture:
1. Much of the world still does not watch American football.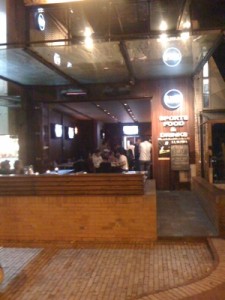 I watched the game in Zona Rosa, a prime spot for nightlife in Bogotá, but it was dead.
Perhaps it was due to the fact it was Sunday, and most of the Bogotanians had already gone out the two nights before… Or perhaps it was due to the fact that people generally don't go out on Sunday nights here. But the fact remains that very few people over all turned out for the biggest game of American football.
(In some ways I like this very much– the fact that American culture has not spread to every corner of the globe, and that countries have chosen to enjoy different things. For example, there was a much bigger turnout for a Colombian soccer game a couple of weeks ago.)
2. For Americans, the Super Bowl has become a tradition.
While in older times, American families seemed to share a lot more experiences– mealtimes, vacations, education, ceremonies, even work was often times a family affair– nowadays I find fewer and fewer shared experiences or traditions among Americans… But, football has become a mainstay in many houses as a shared celebration, with the Super Bowl always a big, happy fiesta.
I like that about the Super Bowl– that there is always some party to go to where there will be a bunch of people to hang out with.
Overall, the main attraction is a little bit passive (a spectactor event) and commercial (staring at the television), but normally you can have sufficient conversations with people if you so choose. And, starting a conversation seems to be pretty easy and genial, as you can always revert to talking about the game.
Traditions can be a way of bringing people together… And, as much as the Super Bowl is a great big commercial, it still is an occasion where people come together.
3. Shared experiences like the Super Bowl become opportunities to find fellow travelers.
Because of the American tradition of the Super Bowl, I met several Gringos at the sports bar last night who had come to watch the game. It was a great way to meet up with them, and talk about what we were up to. One guy was from the US, getting ready to go to Brazil, and another was from Canada, and had just arrived in Bogotá.
There seems to be an instant camaraderie when you hear someone speaking your native language, especially when you are not fluent in the foreign language yet. Conversation is easy, the pressure decreases, and you have a great time.
On top of this, having an American tradition like the Super Bowl creates an opportunity to meet and talk with fellow travelers. You can basically just start a conversation with, "Hey, are you American?"
Note: If you are ever in Bogotá for the Super Bowl, a ton of Gringos go to Hard Rock Café in the Atlantis mall. You'll have to make a reservation if you want a good seat.
So…
Next year, you might want to look up the gringo gatherings for the Super Bowl whatever country you're in. It's a great way to meet and connect with other Americans abroad.