After blitzing through Chile, I headed north through vast deserts into Peru. Arequipa was my first stop.
I stopped there mainly because it was recommended by many other travelers that I've come across, including travel bloggers who have traveled all over South America. It was also recommended by some readers of this blog as "the most liveable city in South America."
While I'm not sure I would agree with such a superlative, there are some good reasons why Arequipa is a city you should check out, particularly if you are planning to retire or settle down in some place for awhile.
1. Low cost of living
Peru in general a decent option for those who really want to flat-line their living costs. Though not quite as cheap as places in Ecuador, a good life in Arequipa can be had for under $1000 / month, easily. There are simple places to live near the city center at $150-$250 / month (though they're very simple and might not include internet). Some people I talked to found even lower rates.
Speaking of internet, there are a number of cafes around town with wifi. Though not guaranteed to be fast (which is something I really want these days), these wifi connections are good enough to do basic surfing.
You can eat simple meals in restaurants for $3-$5, or you can go to nicer restaurants and spend $8-$10. You can buy produce in the streets or in the small produce shops for a pittance.
So, if you want to, you can live very cheaply.
2. Wide-ranging food options
Not sure if you knew this, but Peru has some really tasty meals waiting for you, including this one…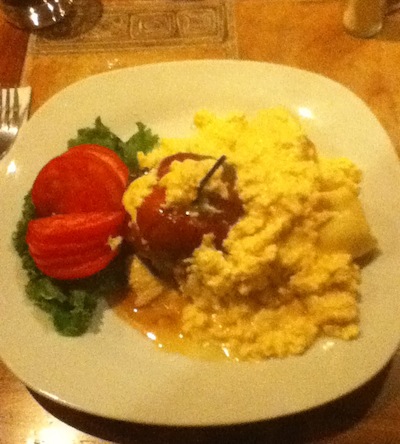 From rocoto relleno and ají de gallina, to alpaca and ceviche, Peru serves up some really tasty food. Practically every South American traveler I've talked to agrees that Peru has the best food on the continent. I'm not the best foodie blogger, so if you want more photos and descriptions of Peru's culinary smorgasbord, see the Peruvian food guide on LimaEasy.
The only bad thing about food in Peru is that most foreigners end up with stomach problems of some sort, at least initially (I was no exception). Nevertheless, it's tasty and if your stomach can get use to it, you'll definitely find it favorable. Arequipa is home to many of these dishes and doesn't disappoint.
3. Walkable city center
Arequipa's city center is based around the cathedral and a number of government buildings. Nearby you can find the various points of interest you'll be interested in, including restaurants, cafes, bookstores, travel agencies, bars, and nightlife options.
It's also easy just to stroll down to the park during the day for a good walk.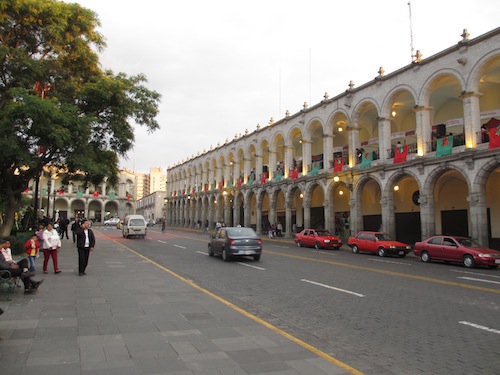 I really enjoy being able to walk where I need to go, and I'm not planning on having a car any time soon, so this is an important factor for me.
4. Expat connections
Arequipa is a little bit of a hotspot among backpackers coming to and from Bolivia, or to and from Cuzco. As such, there are a number of hostels in town to offer short-term stays, as well as good local info to get yourself situated.
Apart from this, though, you'll come across English-speaking expats as you walk through the downtown… younger folks, older folks, they're all there. If you hang out during the day in the cafes, you'll find a number of older expats who have chosen to retire in Arequipa or younger folks who are volunteering in NGOs or teaching English. So this offers you a little bit of community in case you are still learning Spanish.
My favorite cafe spot, by the way, was Cusco Coffee Company, a couple of blocks from the main square. It's definitely an expat hotspot.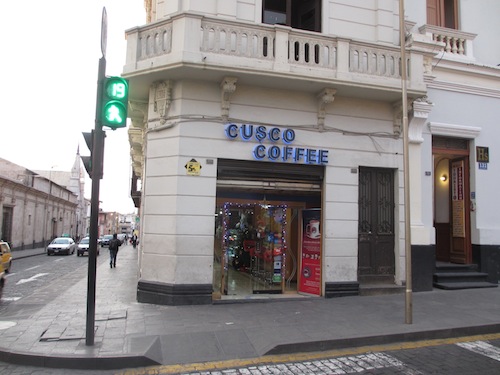 5. Excellent climate with nearby mountains
When the sun is shining, it's very pleasant to be outside in Arequipa. It's a very spring-like climate. At night, you'll likely need a jacket. But overall, I found the weather very agreeable. (Also note: Arequipa sits at 2380 meters, so it may take a few days to get use to the elevation.)
There is also the famous Colca Canyon nearby, and the El Misti Volcano. While you wouldn't call Arequipa a "mountain town", you can see the mountains off in the distance. Not only does this makes the scenery beautiful, but also offers opportunities for day excursions.
And, Arequipa has some neat sunsets…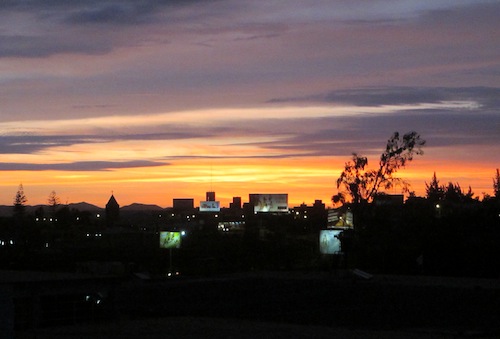 (Yes, ladies and gentlemen, I actually took that picture. 😉 Hold your applause, hold your applause.)
6. Appreciating currency
The Peruvian Sole has been appreciating against the US dollar over the past 5 and 10 years.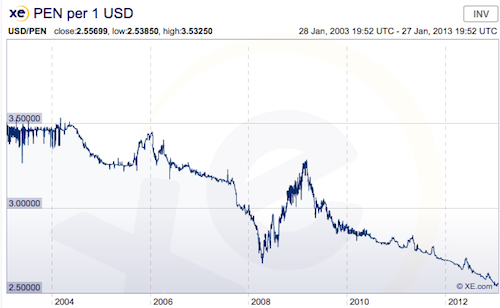 If you've read my post on currency rates, you know this is something that interests me and something that should definitely interest you, if you are wanting to grow your wealth. The devaluing of the US dollar is a trend that you can bank on, as the government has overtly shown no interest in stopping the printing of money.
How moving to Arequipa would benefit you is if you decide to put boots on the ground and open a bank account. If you transfer your money over to soles, they will likely preserve their value over the long-term versus the USD. It gives you a solid opportunity to diversify your money internationally.
7. Relatively quick citizenship
One of the aspects of Peru that should not be overlooked is that you can apply for citizenship after 2 years of permanent residency. Permanent residency can be acquired through work or marriage and from the people I talk to, can be obtained pretty easily. There's a good market for teaching English in Peru, and you can find work for this in Arequipa.
So if you are looking at acquiring a 2nd citizenship by putting in time on the ground, check out Peru. From what I hear, the application process itself can take another 1-2 years, but 2 years of permanent residency for citizenship qualification is about as low a requirement as you'll find on the planet.
My Take
If you read this blog, you might know I'm a pretty tough customer when it comes to liveability. I have a number of things I'm looking for when I'm considering where I'll live, including my main reference point and a desire to not spend a lot of time in places I don't find attractive.
On the positive side, I found the food options in Arequipa (and Peru in general) to be the best I've seen in South America. There are so many good Peruvian foods to eat, as well as your 'standard' dishes like sandwiches, meats, American chains, etc. This is not to be overlooked.
I also like the fact that Arequipa is basically walkable, and living there would be cheap. Temperatures are very pleasant. It also has a strong indigenous influence to it. In these respects, it reminded me of Cuenca.
On the not-so-positive side, it's a more expensive flight from the US, with Arequipa not being a major airport hub (though if you plan far enough ahead, you can get a flight to Lima for $60.) I don't like the fact that it's pretty isolated. There aren't any other major cities close by, and it's surrounded by desert. The internet was too slow (I'm looking for very fast internet these days). Also I'd say the social / nightlife / girls scene really didn't reach that of Colombia or Brazil.
Conclusion
Even though I personally wouldn't settle down there any time soon, Arequipa remains a good choice for liveability. Consider taking a visit, especially if you are an older expat who is looking for a place to settle down, with citizenship possibilities.