As some of you may know, I have been spending the last couple of months down here in Medellin, Colombia. I first came here in the spring, but liked it so much that I came back. My experience here was one of the big reasons I decided to return to Colombia.
So, I've put together 10 ways in which Medellin, Colombia is super-liveable (especially if you are a younger, single male). This first part is with regards to some practicalities of living here, and the next part (part 2) will be more about personal, intangible aspects of living here.
…And I've listed them in Spanish so you can get un poco de práctica!

10. El Clima: The Weather
The weather here in Medellin is perfect for me. About 95% of the time during the day, it is between 65 and 80 degrees Fahrenheit, and I can get a long fine in a t-shirt, shorts, and sandals (my typical gringo outfit

).
This is the kind of clothing I wear back in Florida the majority of the year, and is just part of my life. It's so comfortable, so relaxing, so convenient to wear these clothes and not have to bundle up for a day of variable refrigeration like Bogotá. Medellin is known as "City of the Eternal Spring" for this great weather year round, and it is utterly delicious.
As a side note, there are rainy and dry seasons. When I was here in March, there was a lot of rain, especially in the afternoons. But it tends to rain some and then be done… Unlike a place like the Philippines, which has monsoons, Medellin will have some rain, and then it stops on the same day. There generally aren't non-stop torrential downpours for days at a time.
Hurricanes and earthquakes are also unheard of here, which is different from a lot of locations. No watching the weatherman and satellite pictures for evacuation possibilities. Colombia does have a number of active volcanoes, which may erupt at any time, but they haven't affected anything near Medellin for ages and ages.
Over all, the weather makes Medellin a great place to stay and enjoy the fresh air coming in from the mountains.
9. Grande: It's big.
Medellin is not a small town nestled high in the mountains. It is a major metropolis of Colombia. With a population of over 4 million, Medellin is a a major commerce center of the country, and there is plenty of opportunity and activity going on around here.
There is space for every type of person. There are places for visitors and tourism, like the Modern Art Museum, Plaza de Botero, and the Pablo Escobar tours. There are places to be adventurous, like going paragliding over the hills or exploring the outdoors in Parque Arvi.
There are high-end places to go out to eat and party, like La Strada, the El Tesoro mall, and the finer places of Parque Lleras. There are also less pricey but just as fun places to go out like Calle 33, Carrerra 70, and Centro.
There's a ton of places to play soccer. There are plenty of gyms. There are malls almost always within walking distance. There are dance academies, martial arts studios, Spanish classes, several universities, and practically anything else you would want to do.
There are places to not see gringos if you don't want to see gringos. There are places to get robbed if you want to get robbed. There are places to get, well, "other things" if you want "other things"… whatever that means to you!

What I'm trying to tell you is that Medellin is big enough that you can find your place, no matter what kinds of things you want to do.
8. Acesibilidad: You can get around easily.
One of the things I really disliked about Bogotá was how long it took to commute around the city. It took FOREVER to get anywhere. (They only have a high speed bus system, not a metro in Bogotá.)
By contrast, Medellin has a super-suave metro system that was put into place a few years ago. They keep the stations remarkably clean, and the metro itself runs super smooth. As a Florida boy, I haven't ridden on too many subways, but I wouldn't hesitate to say the Medellin metro is one of the best I've ridden on.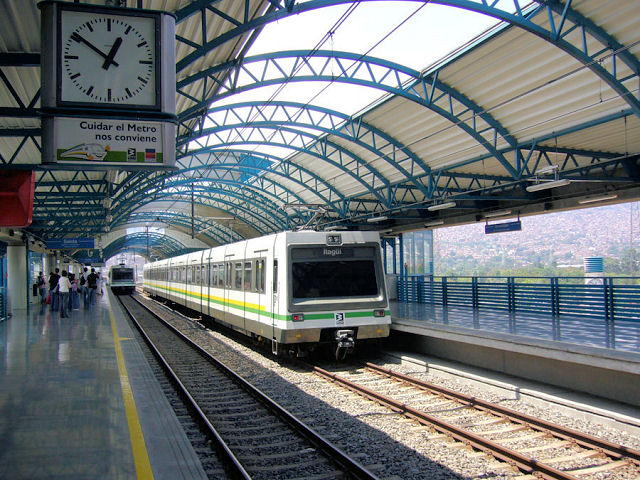 The metro stretches right down the spine of the city, so you can hop on and make it to Envigado (in the south) or Bello / Niquia (in the north) very easily. There's also the east-west extension that makes a lot of the city even more accessible, and in the north the metro even connects to the bus station if you happen to be traveling around Colombia by bus.
Also, as I noted in my breakdown of costs of living in Colombia, you can get practically anywhere in Medellin for a taxi ride of 7000-13000 COP, or about $4-8 dollars. And the taxis always have meters, so there's rarely a misunderstanding or negotiating the fare… another aspect in which Medellin beats Bogotá in accessibility.
Simplifying my life has been a major goal ever since I got interested in travel, and I can comfortably and rather easily live life in Medellin without a car. I view this as a huge plus.
7. Hay areas seguros: There are safe areas.
If you have never been to Colombia or know very little about it, you're probably wondering about the safety aspects of things. After all, Medellin was once the playground of a world renown drug lord Pablo Escobar, who was once named the 7th richest person in the world.
And it's true… Fifteen years ago, Medellin was very different. The drug trade caused serious safety problems in the city. Now is a different story. Pablo Escobar was killed in 1993, and the city has made major changes since then.
There are areas of Medellin which are not safe, particularly Barrio Triste– a neighborhood which I accidentally walked through (not recommended!), and I know of many stories of people getting robbed in different areas of town, even in nicer places of town. You do have to be careful and be wise here, no question.
However, you can find safe places to live in Medellin… places where you are NOT going to be robbed, where you don't have to watch your back, where your dog will not be found decapitated in the yard the next morning. There are places where you can live happily and safely with plenty of security guards alleviating your safety concerns.
You might have to make a few adjustments to deal with the petty theft, but apart from that, you can live in safe areas and be relaxed about the whole security issue.
6. No es costosa: It's not very expensive.
My breakdown of living costs in Colombia were based on living in Medellin. These would be costs of a relatively minimalist lifestyle. I don't have a lot of extra costs, I'm not supporting a family, I don't buy lots of extra things or take lavish trips. Over-all, I live rather simply.
If you want to live on a medium-low budget, Medellin is a great place to do it. Granted, it's not the cheapest place in South America, but it is a sensational value considering all the city has to offer. You can live here on a lower monthly burn, and I might even go so far as to say the trade-off versus other low-cost destinations is worth what you get in the city.
Of course, if you want to pay a boatload and live in a penthouse with the finest furnishings and eat at the nicest restaurants, you can go huge here… I'm sure the girls will be impressed.

But the fact remains that you can get around on an expense budget of around $1000 or less.
Plus, you can find some ridiculously cheap stuff if you look for it. I'm not the best hunter either, but here are some highlights I've found this year (2011):
3000 COP burrito (about $1.80)
1800 COP beer (about $.80)
10000 COP/hr private salsa lessons (about $7/hr)
6500 COP complete lunch (about $3.50)
I suppose if you went absolutely nuts and lived on a sketchier part of town, worked on your laptop from your bed, cooked your own meals, and didn't go out on the weekends, you could whittle it down under $600 /month.
But, above being cost-effective, I would just stress that Medellin is such a great VALUE for the money that you pay. Another reason I totally dig this city.
(Part 2 of this series, right here.)
If you love Medellin (or are FROM Medellin), please share this post!